NILAI – A man was left to take care of his seven children, including a newborn, all by himself after his wife passed away due to COVID-19.
Mohd Shahril Hakimi Hamdan, 41, said his wife Hasmira Hussain, 38, died on August 20 while giving birth to their youngest child via a C-section.
He admitted that he was actually an anti-vaxxer because he did not believe COVID's existence.
"I was later informed that my family was infected with the virus. My wife and eldest child were then taken to the Tuanku Ja'afar Hospital on August 4 for further treatment.
"As for myself, I lost my sense of smell and was coughing non-stop," he said.
Mohd Shahril added that his wife's condition continued to deteriorate and had to undergo a medically induced coma on August 7, with the 32-week old baby inside her having to be delivered the next day.
I didn't expect anything worse would happen until the hospital informed me that my wife had died.
"Thankfully, the children were able to kiss their mother goodbye for the last time after doctors confirmed that she was free from COVID," he said when met at his mother's house at Rumah Rakyat Nilai.
Mohd Shahril admitted that his family is still saddened by the loss of his wife and has yet to accept the fact.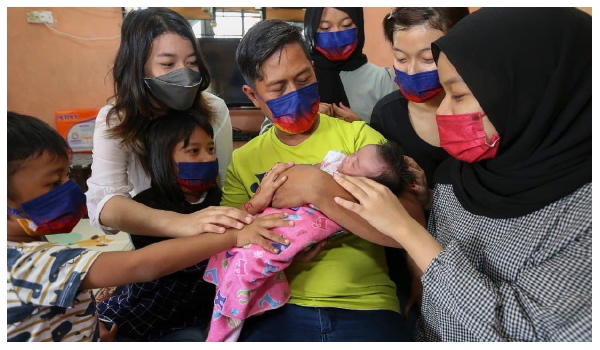 "Many have also offered to take care of my youngest child, but I want my family to do it instead as she is the last 'gift' from my wife.
He also said that he's not certain when he will return to selling char kue tiaw after staying closed for a long time due to the pandemic.
"I have to go back to work because that's our only source of income. But I need the strength as my wife is no longer with us."
---

---
Cover Images via WeirdKaya
Author: J.W Chan
Proofreader: Sarah Yeoh