While attending a concert often leaves a big hole in our wallet, the experience is truly phenomenal and makes up for the high expenditure.
However, some aren't able to fully enjoy a concert due to a lack of preparation or unexpected circumstances.
Thus, in order to get the most out of your concert experience, here are 7 helpful things that you should always bear in mind before attending one!
1. Dress code
It's crucial to wear comfortable and suitable clothing as you will be smothered in sweat. It's also common knowledge that concerts can be very tiring and even worse if you are not dressed accordingly.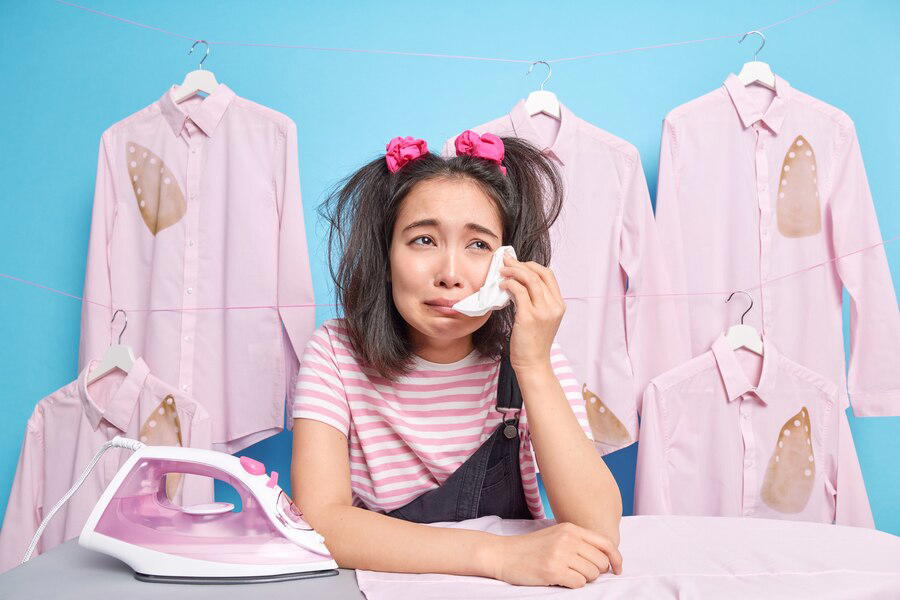 Educating yourself of how the surroundings will be before you attend one might turn out to be fruitful. Is it air conditioned? Are big crowds expected? Is the concert venue open air?
Asking these questions beforehand will provide you a clearer perspective of how your attire should be.
Some attire tips you can consider are wearing comfortable shoes or carry a wear lightweight bag so that you don't have to sweat it out too much.
2. Be at the venue early
As long as you get to your destination hours before, you are practically guaranteed that front row space!
Making an effort to be early and skipping the lengthy queues will certainly allow yourself to store more energy to actually enjoy your concert.
However, take into consideration that perhaps the rest have the same aspiration as you. A good rule of thumb: the earlier, the better!
3. Stay until the very end of the orchestra concert
Always try to make it until the ending of an orchestra. It's considered polite to stay till the end of the concert even though you find it lengthy and boring.
Even if you're not fond of the final piece , leaving early can be disruptive to other concert-goers and is very disrespectful towards the artists.
This effects the artists and the audience to shift their focus at you instead of what they should be concentrating on. Actions like this should be avoided in order to create a peaceful surrounding for both performers and the audience.
4. Refrain from making loud noises
We get it. Everyone wants to get the closest view of what's going on and would often (unknowingly) jostle with others in the process.
In the face of such situations, it's advisable to keep your cool and not make noice so that unnecessary conflicts are kept at bay.
Most importantly silence your phones! You don't want to be the center of attention for your loud ringtone!
After all, everyone wants to have a good time at a concert and the last thing you'd want is to be kicked out by security for causing noises or conflicts among other concertgoers who unintentionally elbowed you.
5. Know what concert you're attending
No one likes having someone who has absolutely no idea what is the show about or what are being performed. If you don't wish to be this person, take the initiative to research on the performance.
To maximize the fun, try to figure out if it's a chamber orchestra, chinese orchestra or a full orchestra.
With this knowledge , you might be able to actually understand what's being conveyed!
6. Have fun!
Live in the moment and keep yourself active during the concert. Throw in some movements while singing as well.
Flutter your arms, clap your hands, sway from side to side and cherish the music even as it's being performed on stage. After all, what's a concert without letting completely loose with the music?
7. Make sure photography is allowed
Some orchestra music concerts don't allow you to snap photographs as they prefer you to live in the moment and enjoy.
In order to prevent any misunderstandings , make sure to check twice if there are any restrictions made towards snapping photos or shooting a video
If possible, snap an abundance of photos for you to look back 10 years from now. Spare a thought of how your elder self will thank you for treasuring such moments. Memories may fade but pictures are here to stay!
Quick tip if you're worried about losing or damaging your good camera or phone: why not consider getting an inexpensive disposable camera?
No concerts to attend? Here's one for you!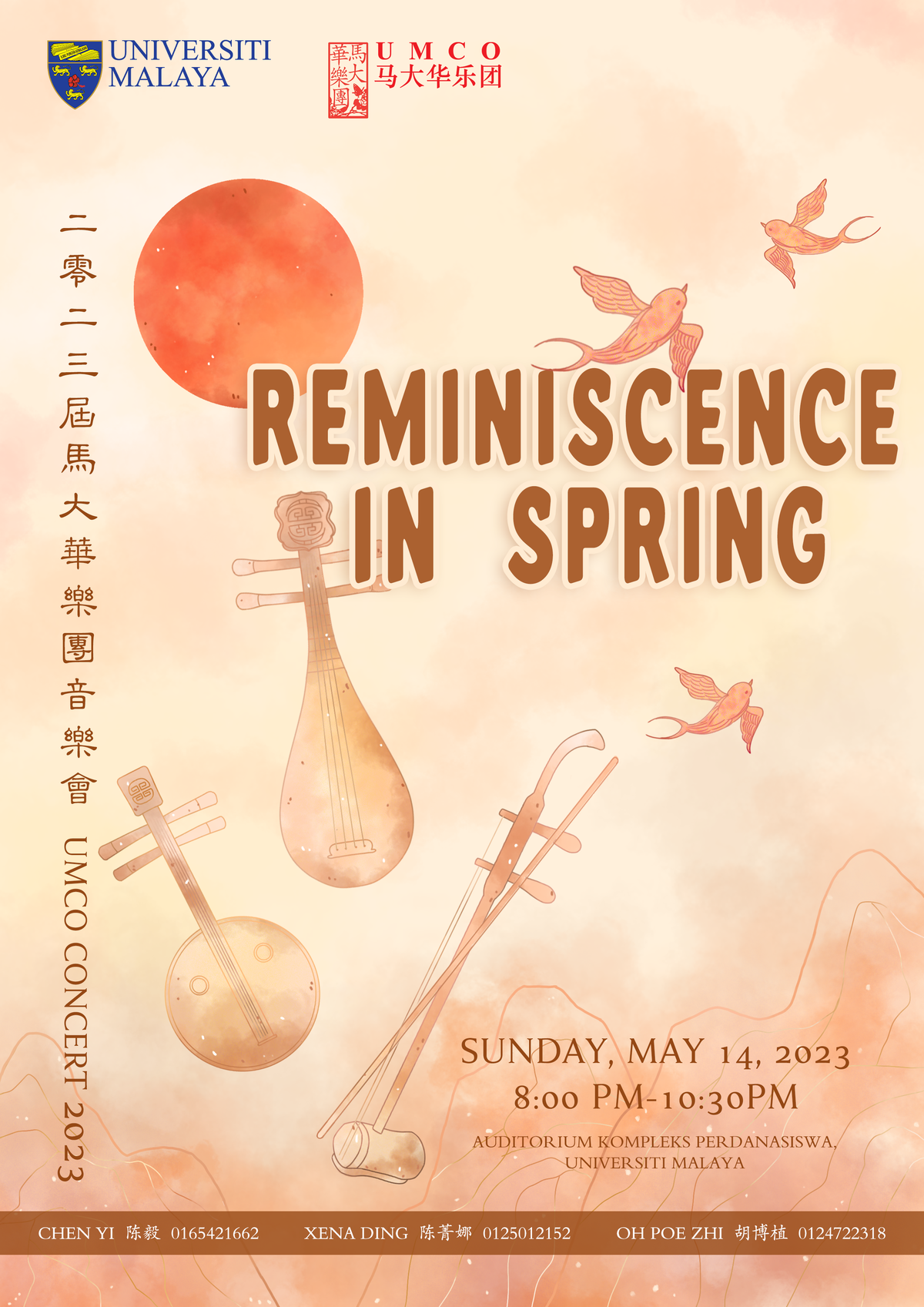 Universiti Malaya Chinese Orchestra (UMCO) is organising an event that aims to give you the chance to experience how attending a concert is like.
UMCO was established in 1981 and has been a subordinate of the Universiti Malaya Chinese Society for the past 42 years.
UMCO's mission is to elevate and inherit Chinese culture, allowing students from different ethnicities to have access to a variety of traditional Chinese musical instruments and providing opportunities to the students at Universiti Malaya to identify their potential in music.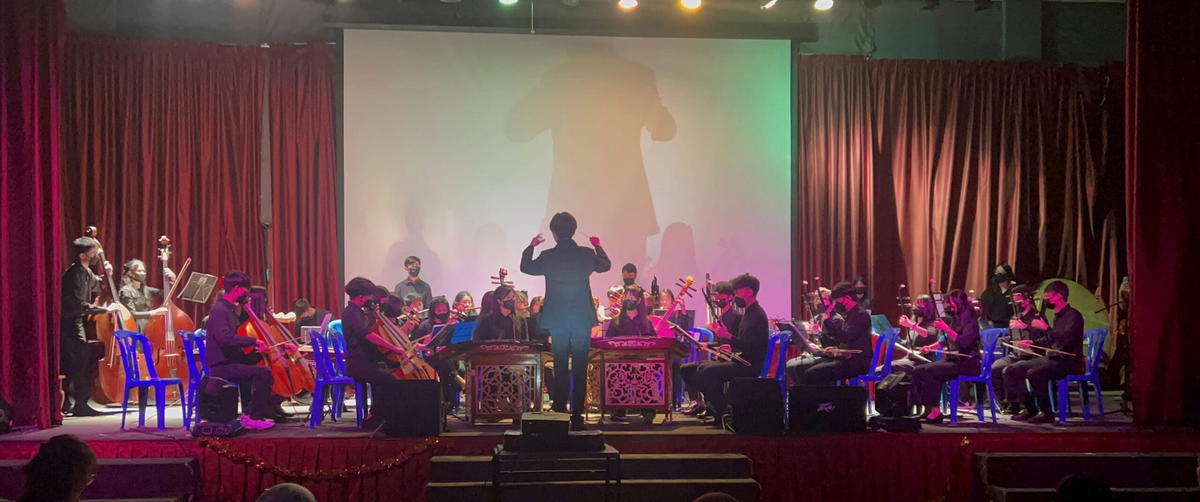 About the concert
"Reminiscence in Spring" is a Chinese orchestra concert that will be a delightful experience for those who are looking to immerse themselves in the beauty of traditional Chinese music.
In conjunction with UMCO's 40th anniversary, the event will be held live on May 14 from 8pm till 10.30pm at the Auditorium Kompleks Perdanasiswa, Universiti Malaya.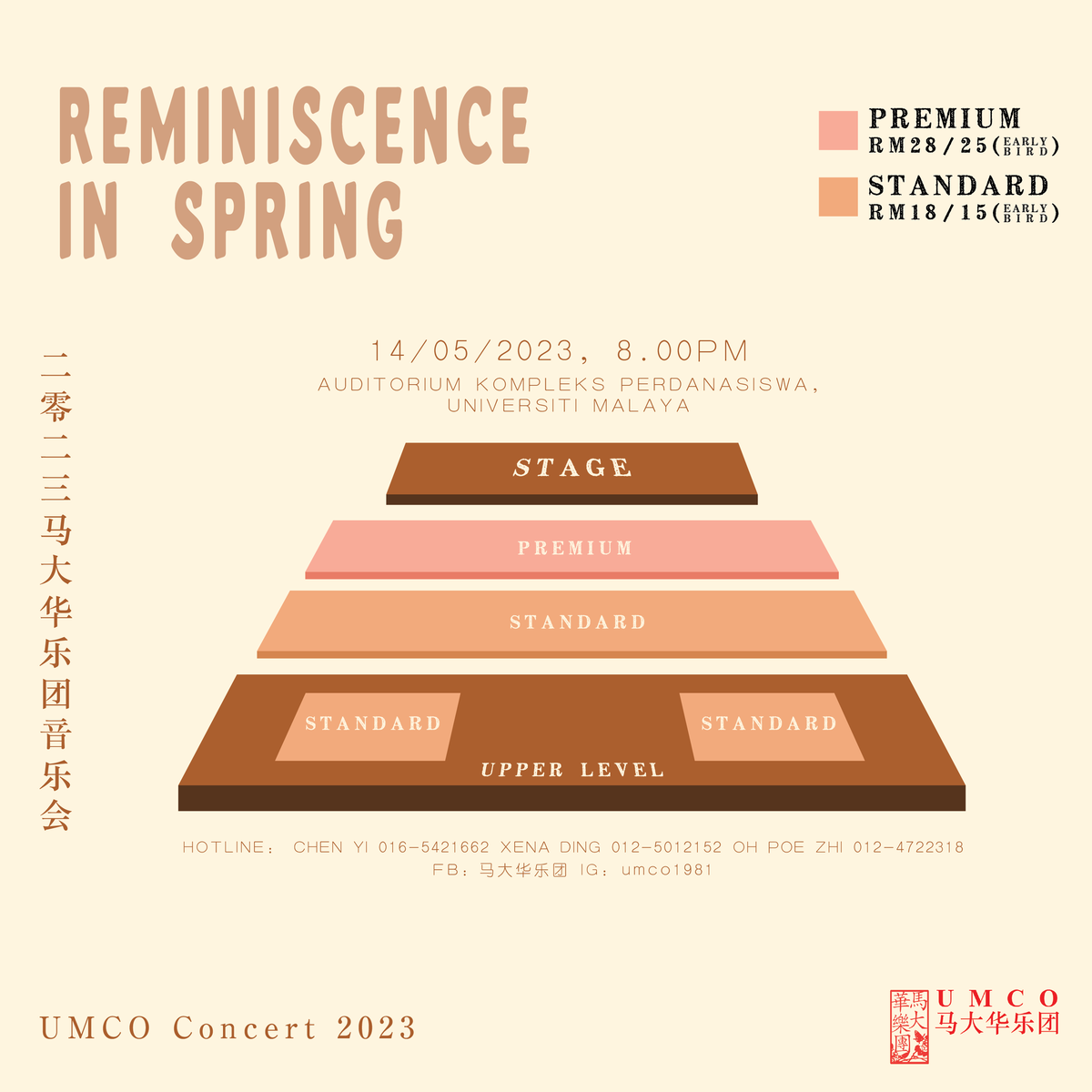 The early bird promotion will end on April 21, 2023 and the ticket pricing is as follows:
Premium Ticket || RM25 (early bird price) | RM28
Standard Ticket || RM15 (early bird price) | RM18
You can purchase your tickets via this link: https://www.ticket2u.com.my/event/30334
Alternatively, you are also welcome to purchase physical tickets from UMCO members as everyone takes a journey down memory lane during the spring season.
For more details, please follow UMCO's social media platforms here:
Official Facebook page: https://www.facebook.com/UMCO1981/
Official Instagram page: https://www.instagram.com/umco1981/