SINGAPORE – A man wearing a Grab shirt was spotted making his runs with his personal mobility aid (PMA) in the form of a motorized wheelchair along Sengkang West Way yesterday (Apr 10).
To top it off, he was believed to be moving at a speed of 50km/h – equivalent to that of a bus.
In a dashcam video which was posted to the Facebook page SG Road Vigilante, the deliveryman was seen riding his PMA in the middle of the road with a bus on his left and a lorry in front of him.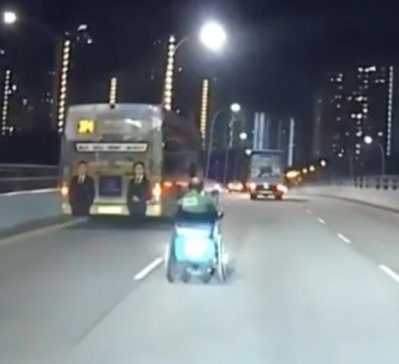 He was also seen helmetless and speeding on his PMA which was only equipped with a single flashing beacon and no brake lights.
Although he was high-beamed by the driver to get off the road due to his reckless driving, the Grab rider remained defiant and steered into the right lane, one which is usually reserved for fast-moving vehicles.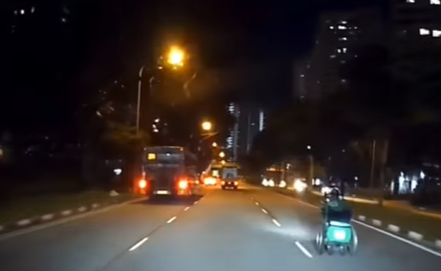 Watch the clip here:
---

---
Where are the authorities?
Netizens were upset by the deliveryman's recklessness and claimed that it wasn't the first time he had driven this way.

They also urged the Land Transport Authority (LTA) to look into the clip and take swift action against errant PMA riders.


According to the LTA's official website, PMAs are only allowed to be ridden on footpaths and pavements at a speed of 10km/h.
Read more:
Cover image via Facebook SG Road Vigilante.