For the first time in my life I went to a protest. Yet, there was nothing to be proud of."

"PsJ", Dewan Muda member
On the eve of the #LAWAN protest, I received a text from a good friend of mine, PsJ, where he expressed second thoughts about participating. He wanted to join in but lived rather far away.
I knew I couldn't go alone, and I needed a familiar face beside me. I told him as gently and firmly as I could that I had set my mind to the idea, and that the only obstacle to my resolve was the lack of likeminded friends to come along.
And I can't believe I'm saying this, but all I could muster was the good ol' trick called reverse psychology.
"Well, you know I can't go alone, so I'll go only if you go," I texted back.
It wasn't fair play, I'll admit. But it was the only way I knew of. Thus, you can only imagine my immense relief when I recieved his reply at 10pm:
"Okay, I will #LAWAN (fight)."
With several hours left until the protest, we quickly made plans over where to meet and saved the contact numbers of the legal team assigned to assist protestors into our phones before getting some needed sleep.
Bitter irony
I arrived at the Masjid Jamek LRT station at 10 am but not yet brave enough to leave the platform. I noticed a few protestors heading towards the assembly point and decided to blend in.
When I finally left the platform, I spotted a couple police officers and suddenly had the urge to hide from them. Snucking into the nearest convenience store, I tried presenting myself as a law-abiding citizen, albeit in my full black protest attire.
It was a moment of bitter irony, laughable even. I wondered how the police had fallen so far to the point where citizens fear them even though they're merely practicing their rights in protesting against a government that had completely bungled the so-called National Recovery Plan.
Thankfully, I managed to mingle with fellow protestors and felt greatly at ease to be surrounded by individuals from all walks of life who agreed on the same goal – the country needs a change.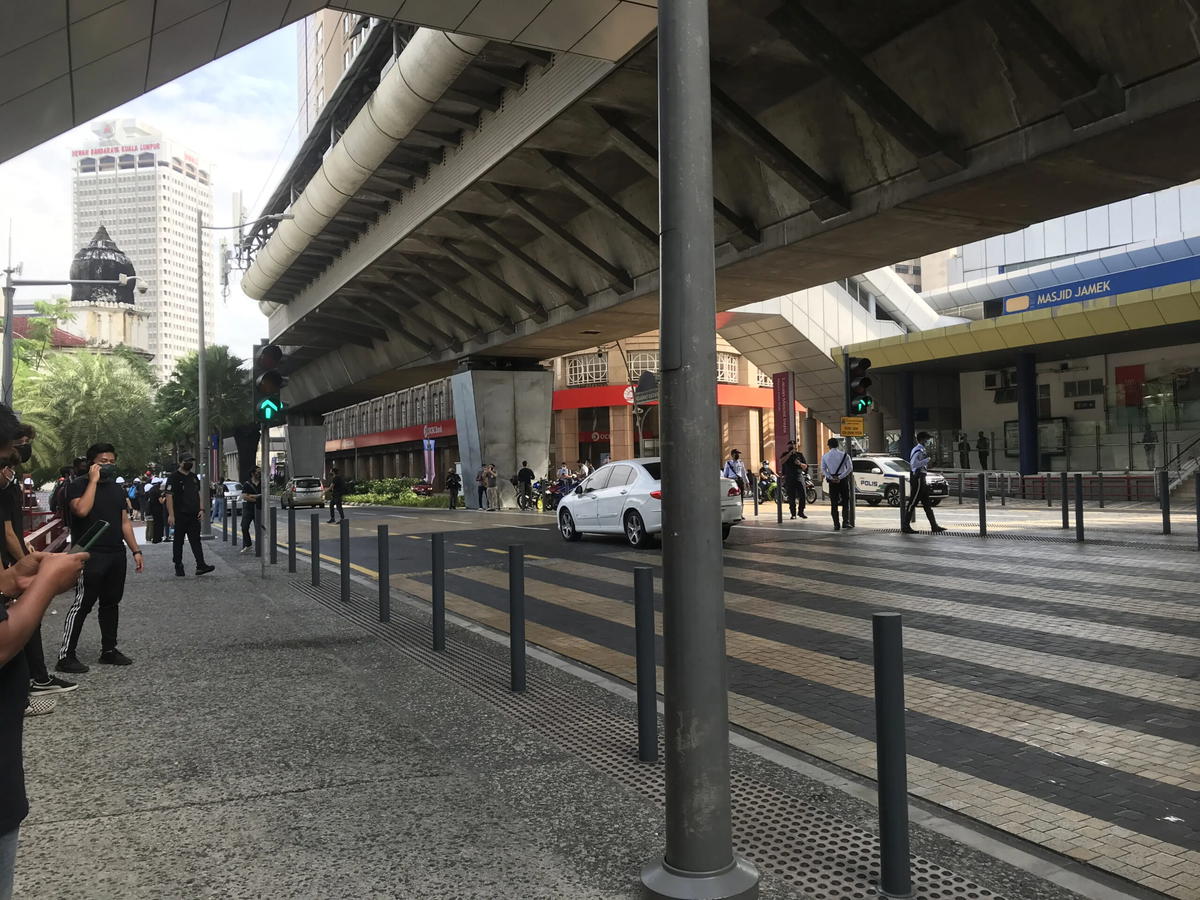 ---
PsJ arrived an hour later and he was amazed by the sight before us. In the midst of a deadly global pandemic, holding a protest is probably the least safest thing to do. But we saw nothing but a sea of disciplined and passionate young protestors adhering to social distancing rules.
Medics and lawyers were also on standby to offer help whenever necessary, giving protestors a sense of safety and relief for an event that could quickly descend into chaos if not executed properly.
Let the march begin
Protestors were arranged into a three-line formation, with the organisers stationed at the front, middle and end of each line. This ensured that we were in an optimised position to maintain social distance and stay organised.
I was assigned to flagging duties, where I was tasked with waving a black flag throughout the march. My mind was briefly taken back to my high school days where I once was a fledgling Girl Scout in a marching practice.
The only difference is that I'm now marching to ask the government to step down.
PsJ and I were in front, four individuals away from a big banner with the words 'Penipu Nasional' emblazoned on it. There was a brief moment of confusion when the line started moving towards the opposite direction, leaving the organisers visibly puzzled.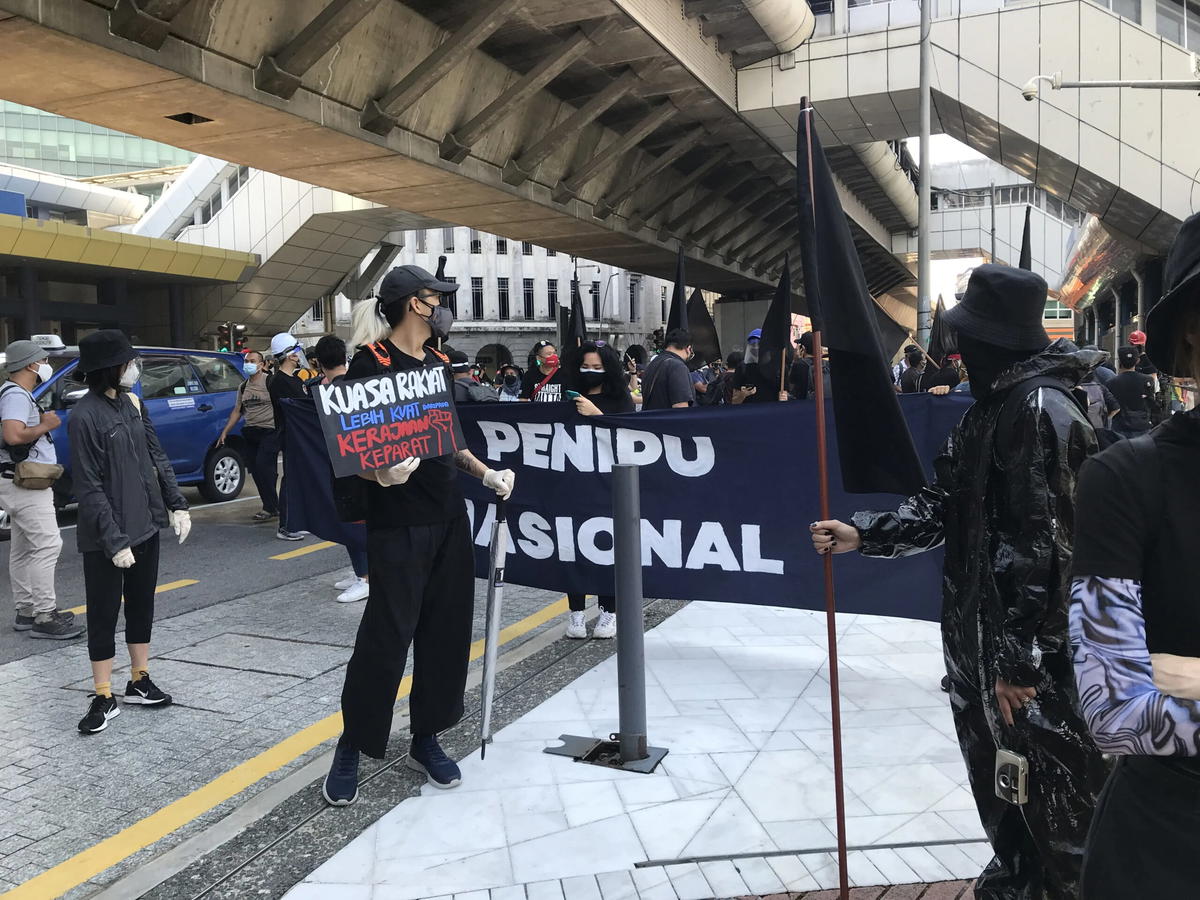 Fortunately, it didn't take more than five steps before the formation turned back towards the correct location – Dataran Merdeka.
"You only know how to complain!"
As we marched our way towards Dataran Merdeka, shouts of "Lawan" and "Hidup rakyat" (long live the people) echoed through the air. Some also yelled "PM undur" as a sign of deep displeasure towards Prime Minister Muhyiddin Yassin's shambolic handling of the pandemic, which has so far left 9,024 dead.
Along the way, there were cars honking in disapproval and others in support.
A cyclist wearing a neon yellow bike suit, white helmet and UV blocking glasses rode past us and shouted probably one of the strangest comments ever:
Complain! Complain! You only know how to complain!"
I found that so very amusing. Our country is recording sky-high COVID cases and deaths every day, and he's getting riled up over citizens saying that enough's enough?
Good luck shouting the same words to those who've needlessly lost their loved ones, buddy.
#BUKADATARAN
As we neared the intersection leading to Dataran Merdeka, we were blocked by a cohort of police officers. The organisers, Sekretariat Solidariti Rakyat (SSR), began blasting messages on their Telegram account with the hashtag #bukatadataran to mobilise its online supporters.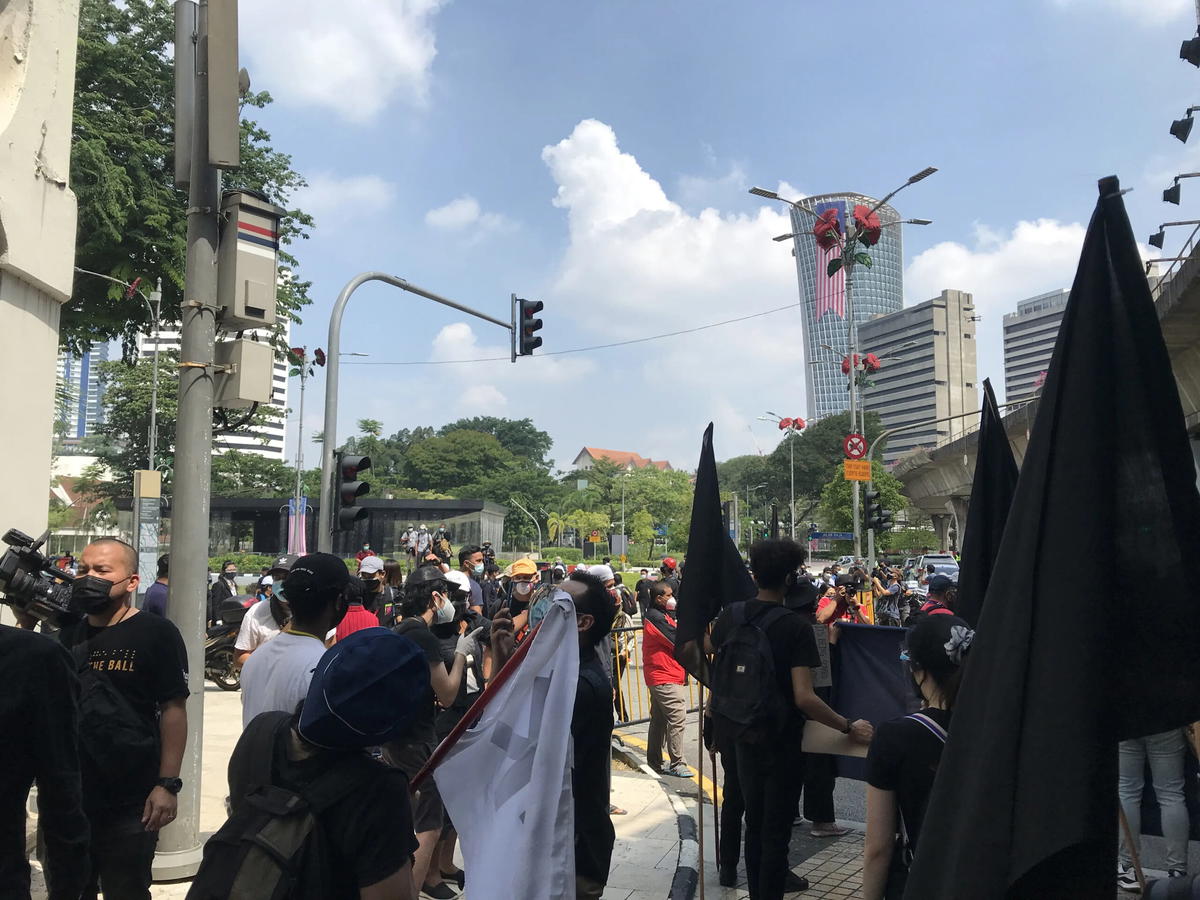 More and more people started to pour into the streets, along with a horde of reporters who were jostling with each other to get the best shot. Despite the impeding mayhem, we still felt very safe as there were lawyers and marshals in sight.
While protestors waited peacefully for Dataran Merdeka to be opened, a police car drove right into our formation and broke our ranks.
While it was obvious that it was an attempt to provoke protestors, it was even more painfully obvious that they had failed miserably.
Unfortunately, we were unable to put some distance between us and the reporters who had swarmed in to capture close-up shots of the police car.
Defiant to the end
The formation quickly got back into shape after this minor disruption and marched further on before taking a rest. We sat on the scorching road while the organisers negotiated with the police to let us enter Dataran Merdeka.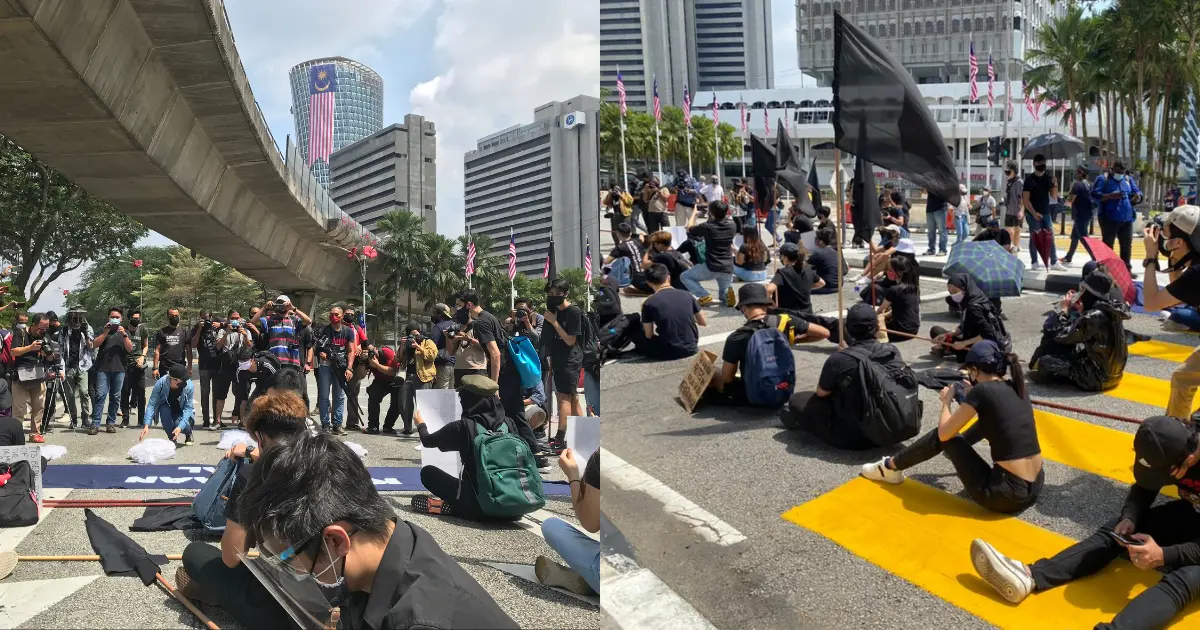 We also sang several protest songs and Negaraku before a SSR representative started his speech.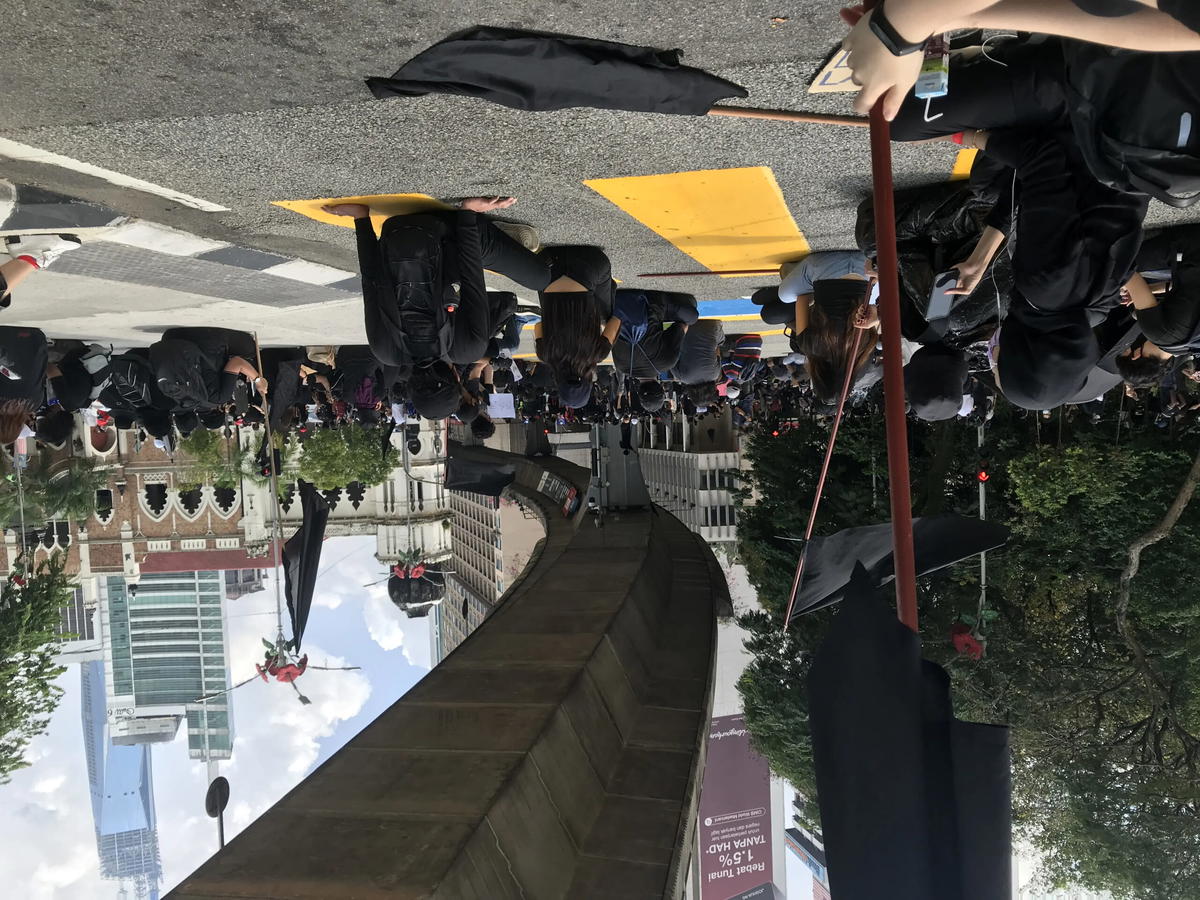 Though it was difficult to hear the speech, one thing was crystal clear that day: the people are fed up with the government's incompetency and are demanding for a change in leadership in the form of Muhyiddin stepping down.
At about 12:40, we were told to disperse peacefully, which we promptly did.
Afterthoughts
Sitting alone on the train home, I kept thinking about how I'd be at the sidelines helplessly watching the government burning the country to the ground with half-baked measures had I not attended the protest.
The blockade into Dataran Merdeka, where we shouted slogans and sang, was etched into my mind too. It was nothing but a peaceful and determined solidarity of a vision for a better Malaysia.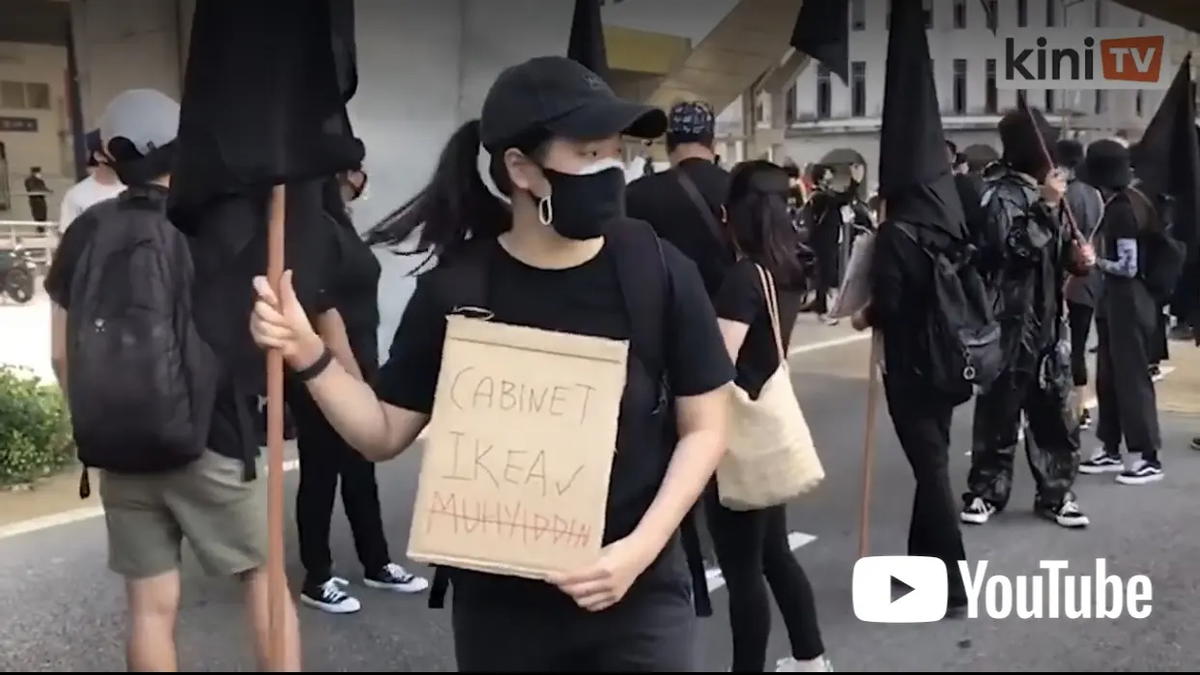 ---
Even though we never entered Dataran Merdeka, the protest was an overall success.
Why? Because we proved that it's possible to for 400 individuals to protest peacefully during the 'new normal'.
I believe what happened today is just the beginning. The movement will continue to live on as long as the government chooses to ignore the voice of the people with its gross incompetency and blatant abuse of power.
And for this, we will #LAWAN until Malaysia sees a brighter future.
Disclaimer: The views expressed in this article are the authors' own. They do not purport to reflect the opinions or views of WeirdKaya.
Cover Images via WeirdKaya
Editor: Raymond Chen
Proofreader: Sarah Yeoh
---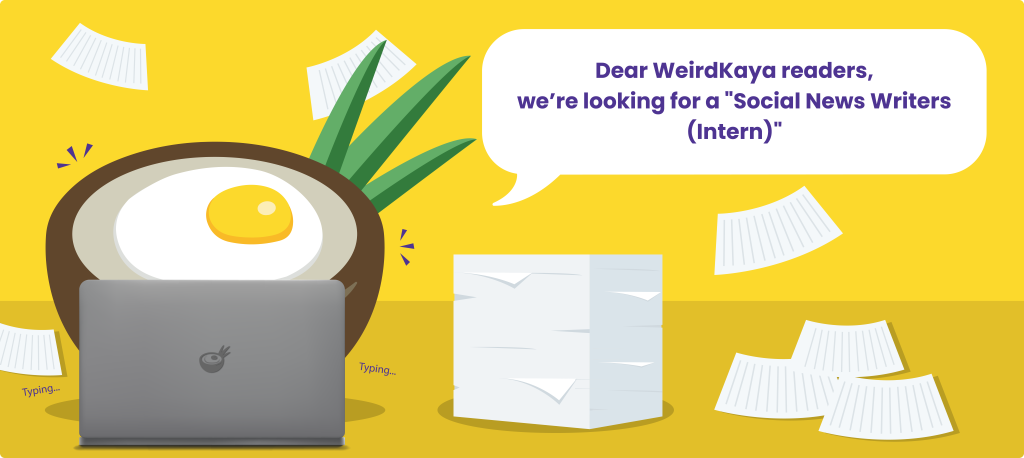 ---