Food delivery rider Muhammad Khuzaimie Lemat has become an online hero after he shared a video of him helping an old woman who got lost in Puchong get back home.
In a video posted on his TikTok account, Khuzaimie said that he was making his way to work in the morning when the woman requested for his help in bringing her home.
Out of the kindness of his heart, Khuzaimie decided to help her and asked in fluent Mandarin for directions to her home, but she couldn't remember the details.
"She told me to send her home. I took her on my bike, but she kept on telling me to go further. She said her house number is nine.
"I think this aunty doesn't know where her house is.
"I think I should take her to the police station, I'm afraid she's lost because she says she doesn't remember the location of the house," he said in the clip.
Watch the video here:
Took woman to police station
In a follow up video, both Khuzaimie and the woman arrived at a police station and he later gave a statement to the police over what happened.
Thankfully, police managed to get a copy of the identity card belonging to the woman's son and immediately contacted her next-of-kin to come pick her up.
While waiting for her family to come, Khuzaimie accompanied the woman and chatted with her at the police station.
Not long after, a family member turned up at the police station and took the woman home.
Khuzaimie shared how this was one of the sweetest and funniest moments in his three-year experience as a delivery rider.
"We spent around 30 minutes together riding throughout Bandar Puteri Puchong. The lady was really happy sitting behind me without a helmet while I was super nervous over it," he said with a laugh.
He also urged others to contact the police if they were to cross paths with the woman in the future.
Watch the follow up video here:
Earned praise from netizens
Khuzaimie's kind deed has since garnered almost 2 million views in less than 48 hours, with many praising him for coming to the woman's aid.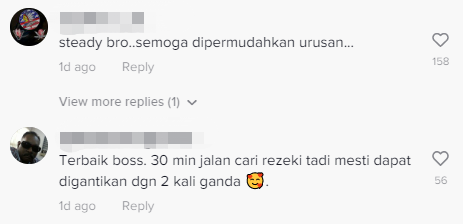 They also commented on how innocent and cute the elderly woman looked throughout their little adventure.


Read also:
Cover image via TikTok/@khuzaimie_lemat1.0/.