SINGAPORE – Two elderly men came to blows over seats at the Bedok North Hawker Centre yesterday (Sept 8).
It all began at around 8am when a man in a white shirt found himself a seat and 'choped' a table with a cup of coffee before leaving.
However, he returned to find four individuals occupying the table and flew into a rage. He then started arguing with two men while standing on top on one of the chairs with his hands akimbo.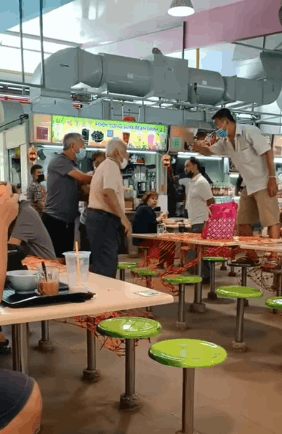 As the conflict escalated, the man in white elevated himself onto the table and shouted an expletive towards a man wearing a grey shirt.
In a second, all hell broke loose with the man in white trading punches with the opposing party.
The man in the grey shirt even tried pulling the man down from the table, enraging him even more.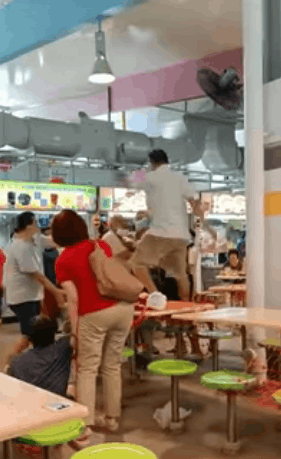 Fortunately, the customers at the hawker centre pulled the men apart and helped a woman who had fallen down amidst the chaos to her feet.
After the fight, the 'intruders' found another table nearby while the man in white roamed around restlessly.
Watch the full video here:
'Conflict was unnecessary'
According to a hawker, the two elderly men were regular customers and didn't know each other.
"The centre is always crowded after implementing social distancing, but there should be enough tables for everyone and a conflict like this is unnecessary," he said.
Singapore has implemented covering seats at eateries with safety netting since the start of the pandemic to limit huge gatherings, resulting in lesser seating and in this case, shorter tempers.
Read about this man assaulting police with a parang here:
Cover Images via FB/ SG Kiasu
Author: WeirdKaya
Proofreader: Sarah Yeoh