---
TRIGGER WARNING
The following article contains blood that may be harmful or traumatizing for some.
---
Yesterday, social media was abuzz with news of a young man who attempted to throw himself off the KL Tower Sky Deck but was saved by the Malaysian Fire and Rescue Department (JBPM).
And this was all thanks to a man who happened to be there before tragedy struck and managed to convince the 20-year-old not to put a premature end to his life.
In a lengthy Facebook post which has since touched many hearts online, Tian Tai Lee wrote that it began with the fateful elevator ride up to the Sky Deck.
Speaking to WeirdKaya, Lee said he went to KL Tower for a birthday celebration with his friend and several volunteers but never expected to witness such a chilling experience.
When we were about to leave, I saw a young man staring aimlessly into the distance and was ready to jump off to end this life.
He also noticed that the young man had left his shoes and bag behind and was standing on one of the tower's drainage pipes.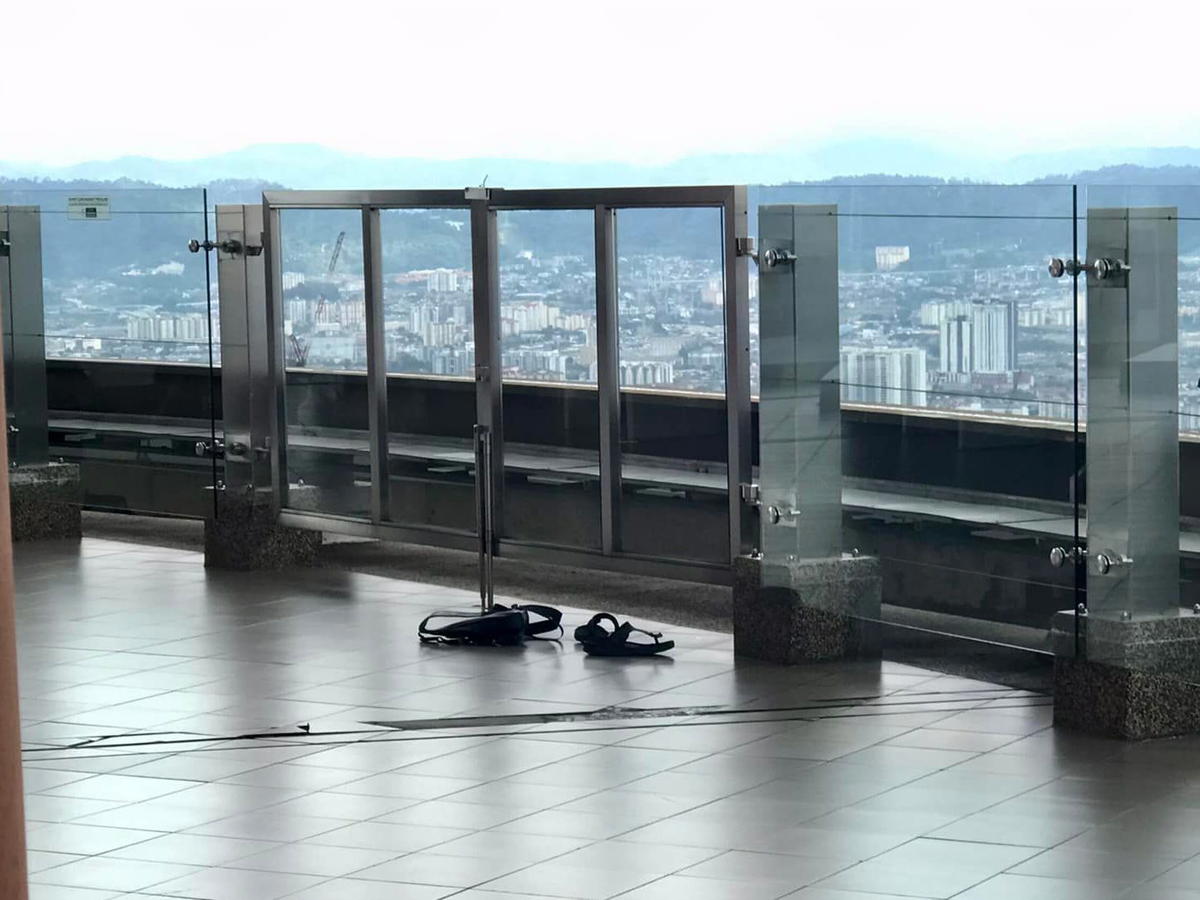 "At that moment, I felt chills going up my spine as I began to imagine the horrific sight of flesh and blood splattered all around.
"I also hesitated whether would I be able to save his life in such a short span and whether I should even get involved at all," he wrote.
Finally, Lee mustered his courage and approached the young man, where he spent the next two hours having a heart-to-heart talk with him.
He told me, 'Don't convince me anymore. I've no money left and my life is meaningless.' But even as he dangled one foot in the air, he began to cry and I could feel his emotional struggle.
An hour later, a team of firefighters appeared and gave the young man some food and water while Lee continued talking to him.
After doing so, the firefighters remained on high alert and waited for an opportunity to pull him in but were hesitant to do so as they didn't want to alarm him while he was still in a precarious position.
One of the fireman, who knew simple Mandarin, also tried persuading the young man to think of his family.
Chinese New Year is just two weeks away. The fireworks here is very pretty and you have to come and see it. We can help you solve your financial problems. Think about your parents…your siblings. We all love you very much.
---

---
This seemed to strike a chord in the young man's heart, who then leaned across the glass panel, buried his face in his hands and started to weep.
Sensing an opportunity, the firefighters quickly surrounded him, lifted him over the glass panel and pinned him to the ground. After making sure that he was safe, they gave him a massage, some water, and even wiped the tears off his face.
With a heart full of gratitude, the young man turned to Lee and thanked him for saving his life, to which Lee replied:
You may have to face legal repercussions and bear responsibility for your actions.
Towards the end of the post, he added that though he was relieved to see the young man free from a potential fatal, the incident has left him still reeling from shock.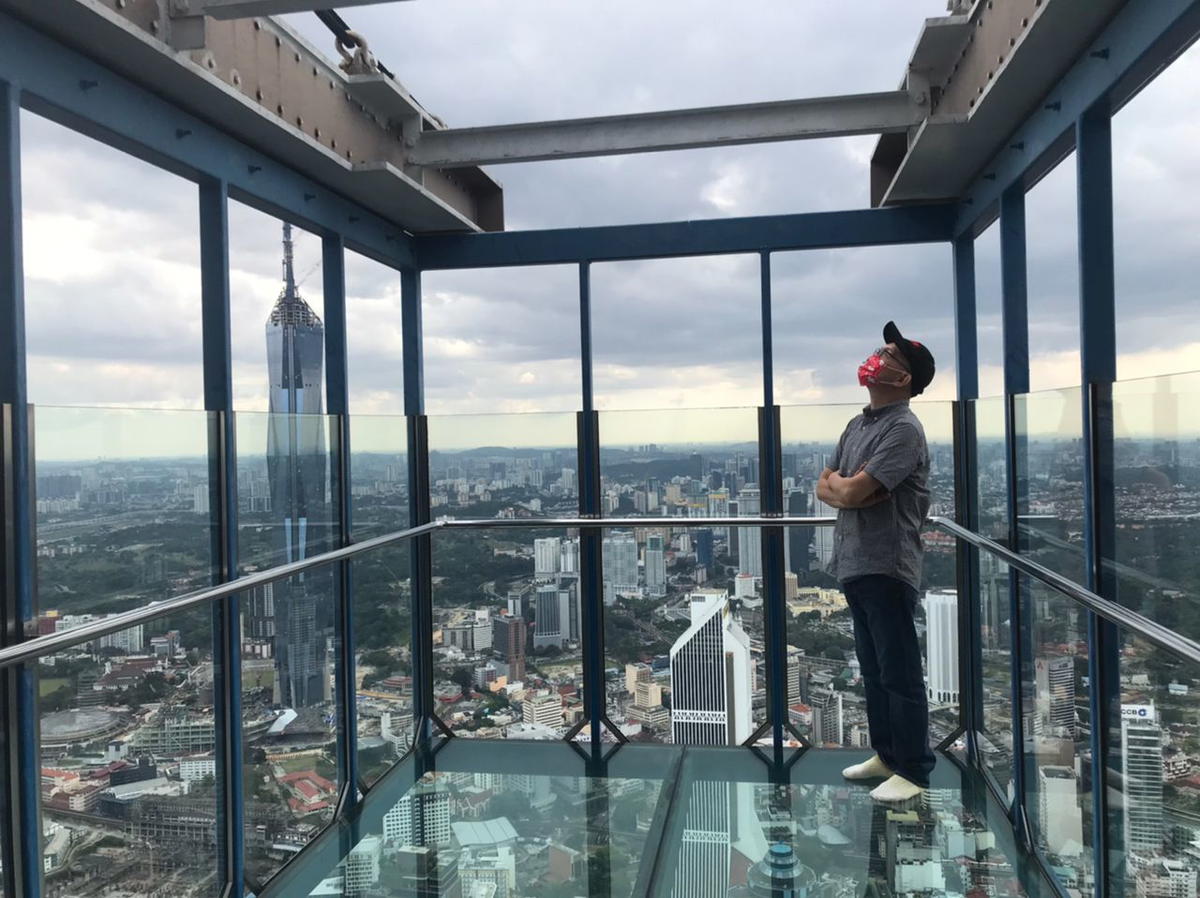 An unexpected encounter
When asked how he was able to counsel and save a person from an unworthy death, he revealed that he was a counsellor at Satir Whole Person Development Association of Malaysia and a certified Neuro-Linguistic Programming (NLP) practitioner.
"I am glad to have years of counselling experience with recuperating drug addicts in Myanmar," he added.
Lee said that he was relieved to see the young man's willingness in opening up to him.
"I could see that he was struggling mentally and emotionally throughout the entire ordeal. He was clearly worried about getting captured by the firefighters while pouring out his heart to me."
If you are feeling depressed or need a listening ear, please call Befrienders KL at 03-76272929 (Open 24/7).
Cover images via Tian Tai Lee
Editor: Sarah Yeoh