We get it, Malaysians. You're ambitious, driven, and you want to succeed. But sometimes, it's important to slow down and take a break.
A 2022 survey by Kisi unveiled that Kuala Lumpur ranks as the third most overworked city globally, trailing closely behind Dubai and Hong Kong, which secured the first and second positions respectively.
So, before you turn into a workaholic ghost haunting your office, let's dive into five eye-opening ways overworking can harm your health and relationships. Trust us; you'll want to grab a teh tarik and chill after reading this!
Burnout
Tired? Stressed? Losing interest in your job? Watch out! You might be on the fast track to burnout- a state of emotional, physical, and mental exhaustion. Make sure you take breaks and recharge your batteries to avoid feeling overwhelmed and detached from your work.
Mental Health Issues
Overworking isn't just about clocking in long hours; it's also a recipe for increased stress, anxiety, and depression. Remember to prioritise self-care and set healthy boundaries to keep your mental health in check.
Physical Health Problems
Spending too much time at the office can wreak havoc on your body. A sedentary lifestyle, sleep deprivation, and unhealthy eating habits can lead to obesity, heart disease, and diabetes. So, take a break, stretch your legs, and don't forget to eat your veggies!
Reduced Productivity
Here's a shocker – working longer hours doesn't guarantee increased productivity. In fact, overwork can lead to a drop in your efficiency as your energy levels plummet and your ability to concentrate fades.
Strained Relationship
Your friends and family miss you! Being absent from important events due to work can lead to feelings of guilt and resentment, ultimately straining your relationships. Strike a balance between your professional and personal life to keep your loved ones happy.
Work-life balance is essential, and Heineken® knows it!
Now that you're aware of the risks of overworking, it's time to introduce a campaign that has your back! Heineken® understands the importance of work-life balance and prioritises your social life. That's why they've launched a campaign to help you take a break from the grind and reconnect with your friends!
The Ghosted Bar, a campaign by Heineken®, encourages Malaysians to stop letting their social life down due to overworking and to #WorkResponsibly. Heineken® is all about bringing people together and facilitating group gatherings.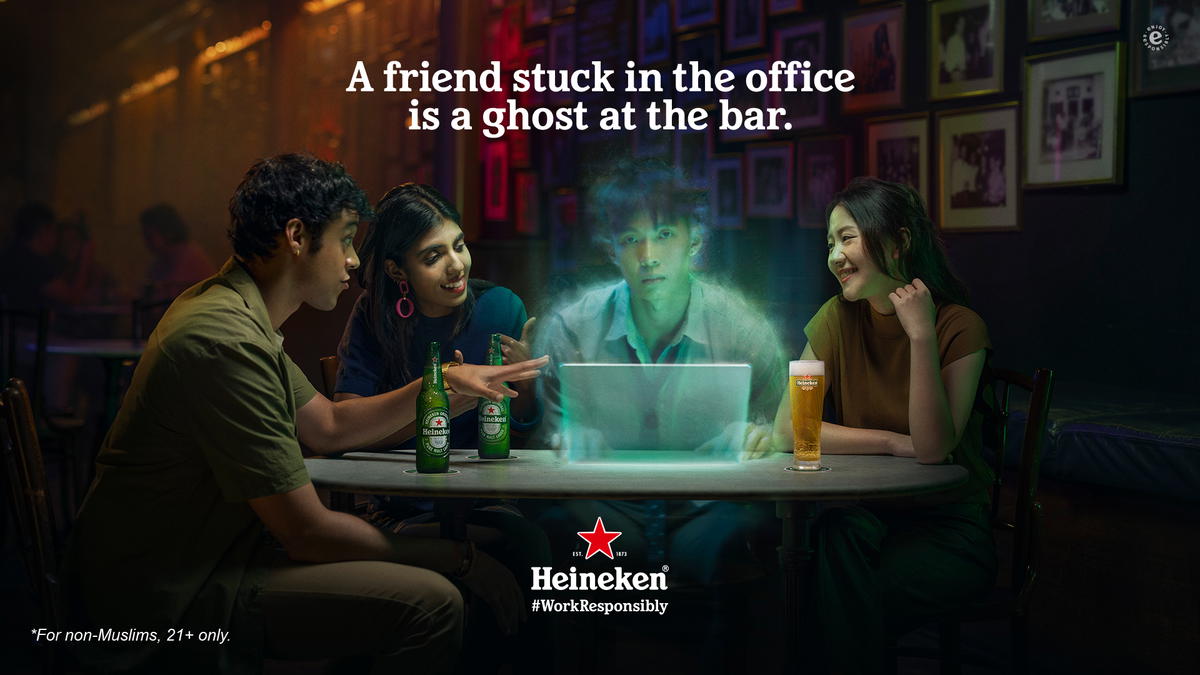 Heineken® Ghosted Bar is here to help you maintain a healthy work-life balance. Ready to unghost your social life?
Ghost GIF Generator
Know a friend that tends to overwork? Send them a reminder to quit "ghosting" you and to #WorkResponsibly #HeinekenMY via a personalized invite!
The Ghosted Bar
Need ideas to get you or your overworked friend out of the office? Join one of the Ghosted Bar experiences by Heineken® from May 9th – May 31st throughout Klang Valley, Penang, Ipoh, and Johor for fun activities such as the Heineken Work Buster where you release your stress via a Whack-a-Mole style game, stand to win great prizes worth up to RM100k with participation of the Ghost GIF Generator, get your Unghosted photo moments captured and of course, catch up with your friends!
RSVP now and don't forget to invite your pals that are notorious for overworking and ghosting you while you are at the Ghosted Bar experiences. If your invited friend that is stuck at work shows up during the experiences, your entire group will get a complimentary bucket of Heineken®! Talk about getting that happy hour started!
Don't miss out on all the fun and excitement! Stay updated with the latest Heineken® events and promotions by following their Instagram page at www.instagram.com/heinekenmy and Facebook page at https://www.facebook.com/HeinekenMYS. To learn more about Heineken® and their offerings, visit their official website at https://www.heineken.com/my. 
Get ready to #WorkResponsibly and embrace better work-life balance with Heineken®! #WorkResponsibly #HeinekenMY
For non-Muslims, aged 21 and above only. Terms and conditions apply: https://www.heineken.com/my/en/terms-and-conditions