A few days ago, the MP of Padang Rengas, Dato' Sri Mohamed Nazri bin Abdul Aziz was tested positive for COVID-19. Yesterday, his wife Datin Seri Haflin Nazri, their 4-year-old son, and his wife's assistant were tested positive for COVID-19 as well.
For the time being, Dato' Sri Nazri is warded at the Hospital Raja Perempuan Zainab in Kota Baru, while Datin Seri Haflin and their son are under a home quarantine at a villa located at Kelantan. Recently, Datin Seri took to Instagram to share her home quarantine life, with a caption: "Best home quarantine ever."
The video shows that she has a pink quarantine band on her hand. She did some simple warm-up and ran towards the sea behind her. However, her act of playing by the beach during the quarantine period has triggered some netizens' anger, feeling that she is violating the SOP. They pointed out that it might put other beach visitors or anyone around at risk and harm their health and safety.
---

---
Facing the netizens' questions, Datin Seri Haflin responded:
"You can choose not to see if you feel uncomfortable seeing it. This villa is my property, Villa Danialla. It belonged to my mum, and it is mine."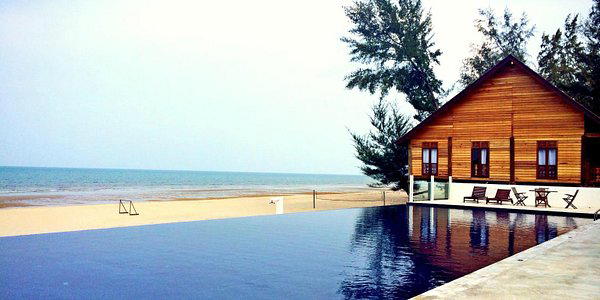 According to Noodou, this villa locating at Bachok Kandis belongs to Datin Seri Haflin's family.
Meantime, there are many netizens who were happy for them for being so lucky.
Lastly, we wish Dato' Sri and his family a speedy recovery. Everyone, please stay safe!
Editor: Raymond Chen