KUALA LUMPUR – Upset badminton fans have alleged on social media that the free seating area at the Axiata Arena were unavailable as it was reserved for a certain group of spectators.
This comes after netizens complained that those who had waited since 8am were denied the opportunity to secure front seats and were forced to seat at the back instead during the third day of the Petronas Malaysia Open 2022.
I think if it's free seating, means a free seating.. pity some of BLs🇲🇾🏸 queued as earlier as 8 ended up seating at the back while the 'front seat' was RESERVED. 🤦🏻‍♂️ #PETRONASMalaysiaOpen2022 #GemilangkanLagi #BadmintonMalaysia #MalaysiaOpen2022

— Giarc Nibisna 🇲🇾🌺 (@craigansibin) June 30, 2022
According to Sin Chew Daily, the front seating area was reserved for a group of fans who bought the tickets under a popular Facebook badminton page called "叻哥频道 Channel 666".
Organiser: 'It was a pre-arrangement"
In response to the backlash, the organiser KH Worldwide took to Facebook to clarify the pre-booked seating area at section 306 and 307.
It said that the arrangement was requested by the group in order to facilitate communication and for easy movement control.
If this had caused any inconvenience to fans who had purchased tickets for the similar section, we humbly apologise and assure you that this will not be repeated.
As a sign of goodwill, KH Worldwide offered fans who were affected by the arrangement a goodie bag which could be redeemed at the redemption counter near the main entrance.
However, it backfired spectacularly as netizens bashed KH Worldwide for allowing the pre-booking arrangement to occur in the first place.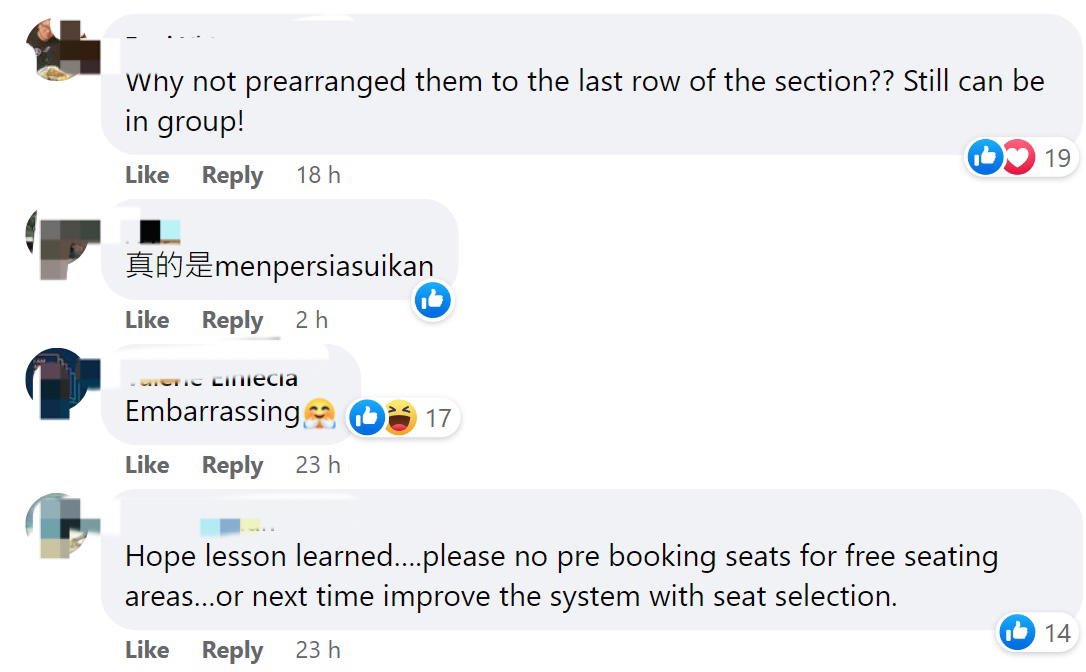 Lek Gor hit back
Realising many fans were complaining towards the official and the group of fans who get reservation privilege, the admin of the Facebook page started a FB live to hit back at those who criticise him.
Don't you see some who did not wear the same t-shirt also being at the front rows? Those who did not wear my t-shirt and wish to forcefully sit the front rows, you can do it! No one will block you!
lepas kejadian tu lekgor buka live x minta maaf pun pic.twitter.com/c7FgmRAWbq

— adg (@singletiger69) June 30, 2022
BAM responds
The Badminton Association Malaysia (BAM) also issued a statement on Twitter, saying that it viewed the matter very seriously and promised not to allow such booking issues to happen anymore.
BAM memandang serius isu ini. Pihak pengelola kejohanan, KH Worldwide juga telah memberi jaminan kejadian ini tidak akan berlaku lagi.#PETRONASMalaysiaOpen2022

— BAM (@BA_Malaysia) June 30, 2022
Tidak akan berlaku lagi esok dan seterusnya. Kalau ada yang booking2 seat lagi, report je dekat min! nak kena diorg ni😠 https://t.co/V3cqnzio0C

— BAM (@BA_Malaysia) June 30, 2022