With the pandemic drastically changing the way how we work, many have found that working at a 9 to 5 job is becoming less desirable and are looking to be the boss of their own company.
As it is with any industry, there's a list of benefits and risks that you will face should you choose to establish your own company. Being the co-founder of a media firm, here are 5 signs that show one is ready to take the leap of starting their own business venture.
1. You are passionate and self-motivated
One misconception most people have is that once they've successfully established a company, they can sit back, relax, and look forward to swimming in money. This can't be further from the truth!
Unlike 9 to 5 employment where you have a supervisor constantly on your heels to get things done, being your own boss requires much more commitment and passion as there's no one to spur you on.
If you lack these two characteristics, you won't be able to see your company move on to greater heights, especially during the early stages where the business tends to be on the sluggish side.
2. You have a talented and supportive team
While starting a company may seem to be a solo task, but you'll definitely need talented and supportive individuals who share the same vision and are able to help out in areas you do not excel in.
How exactly do you get in touch with such individuals? The solution is simple: build and widen your connections. Join more workshops and seminars related to your industry. Be proactive in exchanging information with industry leaders who may introduce you to valuable resources and people.
3. You are aware and mentally prepared for the risks
Many often say, "You're still young. Just go for it." In my case, this was rather true to a certain extent as I'm still single and do not have much commitments to fulfil.
If you're like me, you're strongly encouraged to explore various options and methods in kickstarting your own business during a period of your life when you can afford to take risks.
However, do exercise caution while doing so and always consult the ones you trust who are experienced in the area of founding a business.
4. You have excellent planning and execution skills
Some have a million ideas floating around in their heads but are unable to execute it, whereas some are good are carrying it out but are poor planners.
Your startup won't go very far if you don't plan ahead of time and neither will it expand if you don't know how to carry out your plans, no matter how brilliant it may be.
If you have trouble in either of these areas, don't be afraid to ask for help from experts or those who have gone through the same struggles so that you get insightful tips on overcoming it.
5. You have good business ideas
All the above will not come into fruition unless you have a good business idea.
To start a successful business, you must first come up with business ideas and concepts that are able to penetrate the market. Once you've done so, you have to do your own research and determine whether there's a genuine need for the product or service you want to offer.
But, how would you know whether if it's going to work out or not? Well, for starters, you first have to give it a try.
And what's a better way to do so than to take part in a competition that allows you to pitch your business ideas?
Join BizMaker!
BizMaker is an annual inter-university competition event organized by the Management Society, Universiti Sains Malaysia (USM) to provide students with a platform to acquire and improve the skills and expertise required in the business and entrepreneurship fields.
Now in its third year, BizMaker is open to diploma and undergraduate students from any field of study from local public and private universities. The competition will feature approximately 50 teams (about 4 to 5 participants per team) competing at a national level. The organizer will invite a team of external mentors and judges who are qualified and experienced from the industry to impart their expertise to the students.
This event includes two stages: Biz Planning and Biz Pitching. Biz Planning is the preliminary round, which starts from May 1, 2023, to May 11, 2023.
During this stage, teams will submit their business proposals and presentation slides. A workshop session related to business plan development and pitching skills will be conducted on May 6, 2023, followed by a mentor-mentee session on May 7, 2023.
The top 10 advanced teams will need to pitch their business ideas physically at USM to a panel of judges. The judges will evaluate the business ideas based on their originality, feasibility, efficacy, technological relevance, and viability. Winners of the BizMaker competition will receive a cash or product prize.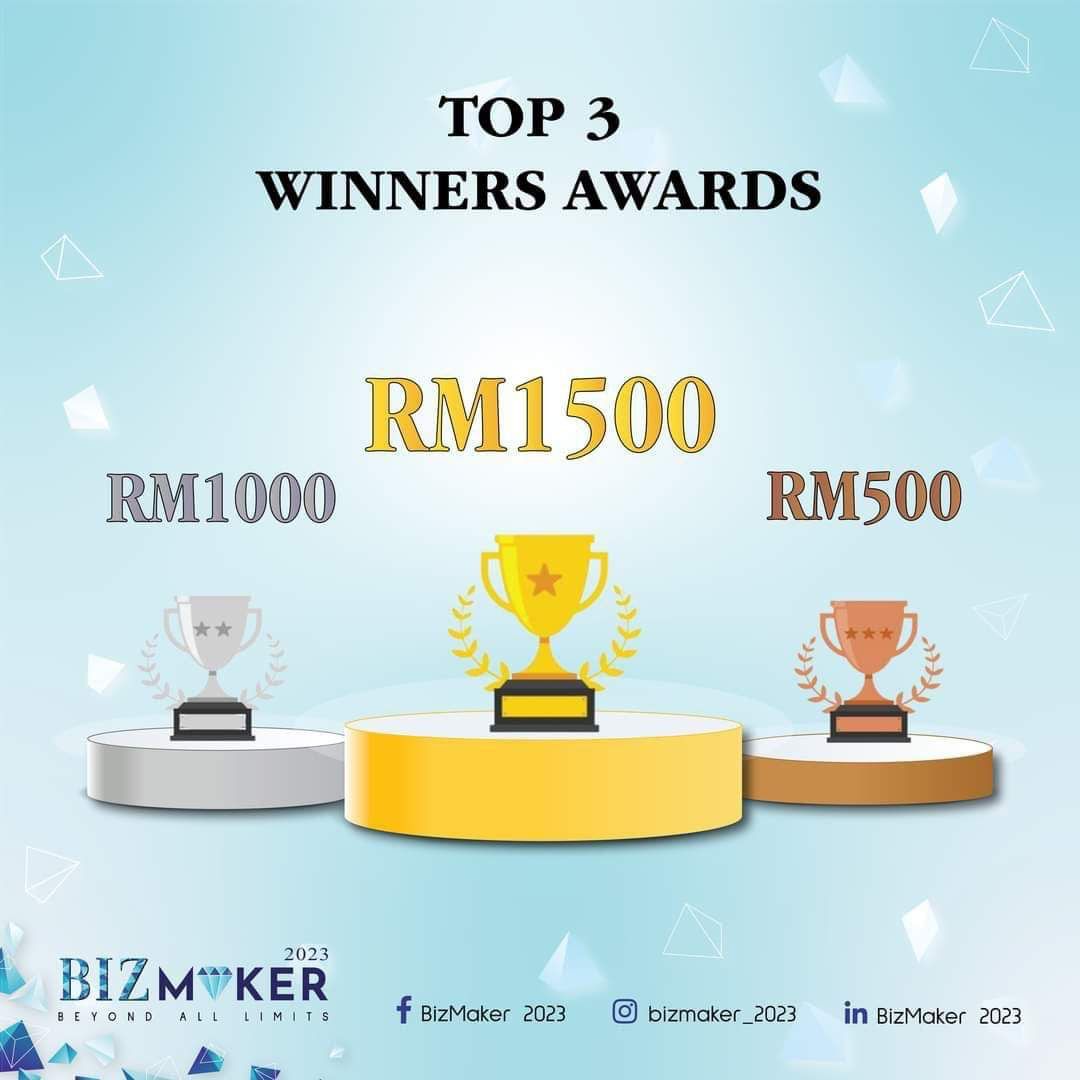 Registration details:
📝Registration form: https://forms.gle/9YJkwaSLUtvbuPbC7
💲Registration fees: RM25/team (4 to 5 members per team)
📍𝗗𝗲𝗮𝗱𝗹𝗶𝗻𝗲: 𝟮9th 𝗔𝗽𝗿𝗶𝗹 𝟮𝟬𝟮𝟯 (Saturday), 𝗮𝘁 𝟭𝟭.𝟱𝟵𝗽𝗺
*Individuals looking to join a team should fill out their information in the registration form. The organizer will then form teams of 4 to 5 members for the individual participants.
Check out their Instagram page for more details: