KUALA LUMPUR– Asus Malaysia commemorated the 25th anniversary of the its P6300, the very first laptop to be sent to space in 1998, with the launch of the ZenBook OLED series at Mid Valley Megamall on Monday (May 23).
Among the guests of honour at the event were Malaysia's first astronaut Dato' Dr. Sheikh Muszaphar Shykor and architectural designer Red Hong Yi, who were invited to share how their lives and work were made all the more more convenient by the ZenBook OLED.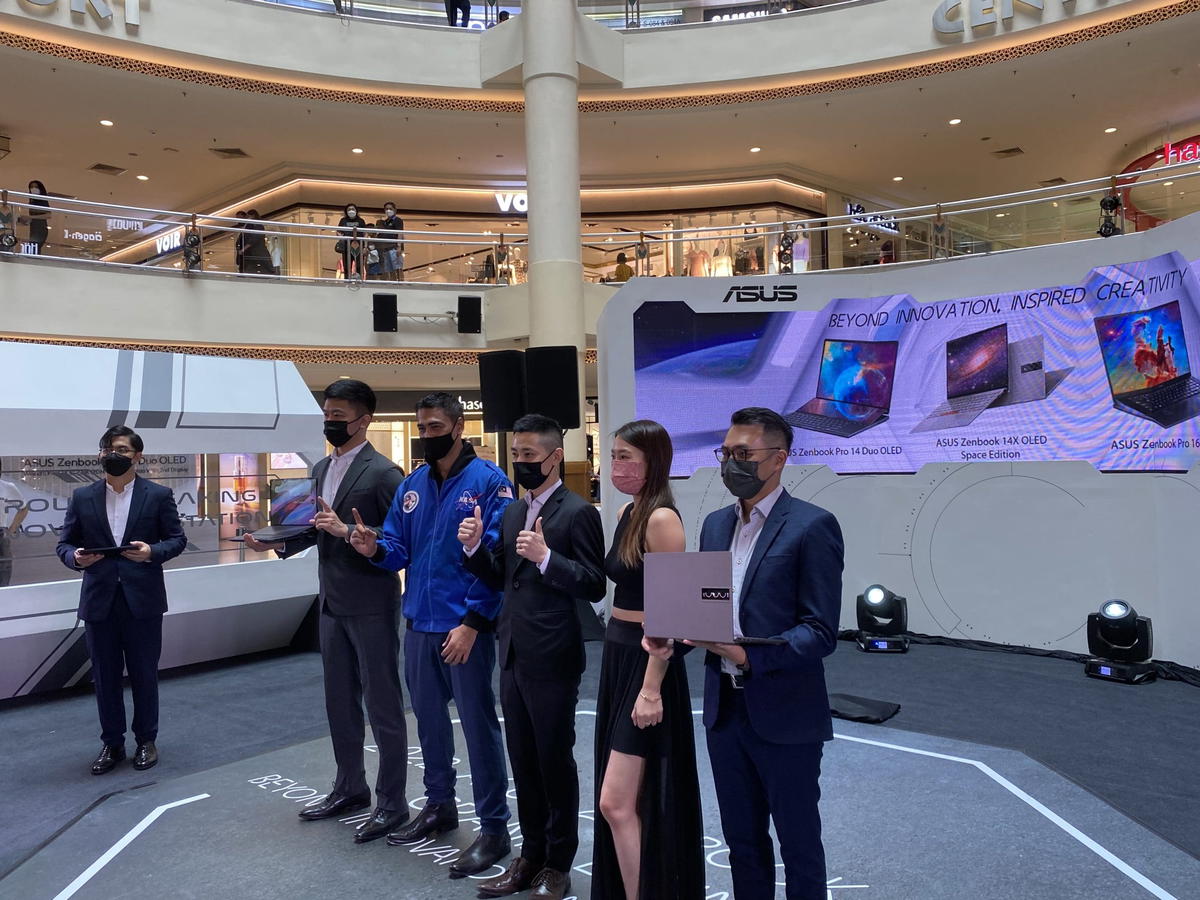 Here are the three new products which were unveiled during the event:
Asus Zenbook 14X OLED Space Edition
Mainly inspired by the company's past exploits in space, the Asus Zenbook 14X OLED Space Edition comes in an exclusive Zero-G Titanium colour to pay tribute to the most widely used material in spacecraft construction.
It also has a 3.5-inch OLED panel on the cover called the ZenVision display, where users can have a "window" to their inner world with personalised notifications, battery status, animations and texts shown on the cover.
To meet increasing demand for space travel, the Asus Zenbook 14X OLED Space Edition is highly durable as it can withstand extreme vibrations 4 times higher than the standard Military Grade durability and temperatures ranging from 61°C to – 24°C.
It is also equipped with a 16∶10 2.8K OLED NanoEdge PANTONE® Validated 14-inch display with an unbelievable 92% screen-to-body ratio and TÜV Rheinland-certified eye care.
This limited-edition laptop comes in a reusable box that doubles up as a laptop stand, lifting the laptop at a precise 23° angle.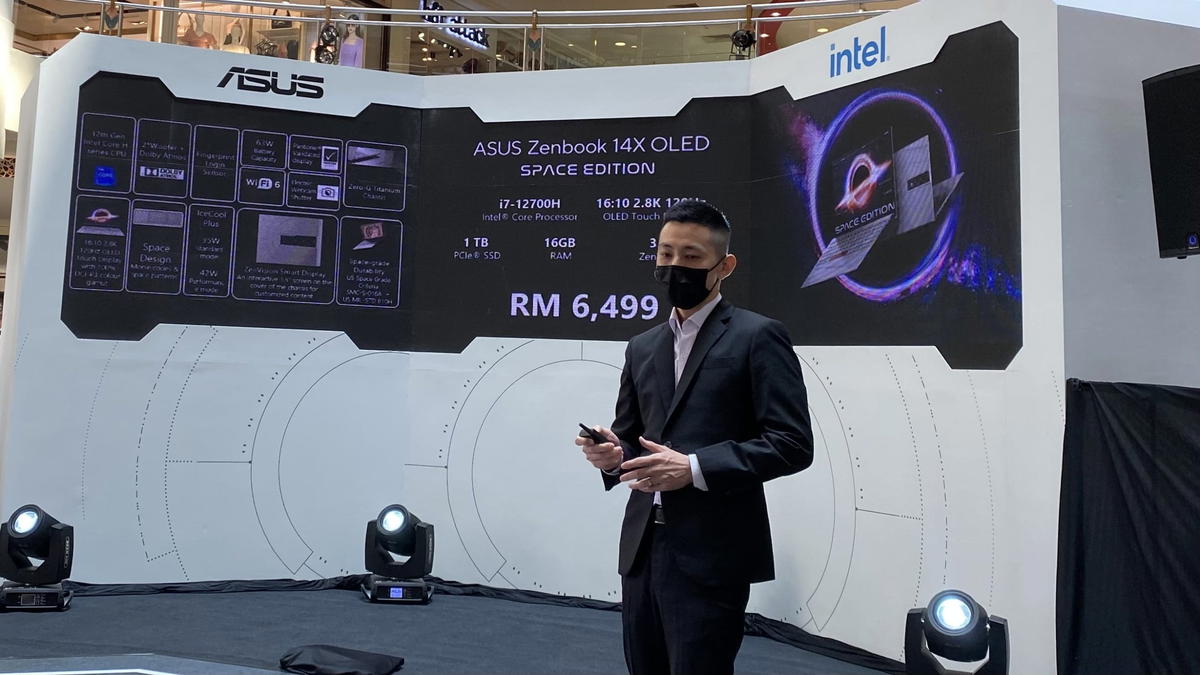 ASUS Zenbook 14X OLED Space Edition pricing:
RM 6,499 (i7-12700H/16G/1TB)
RM 5,599 (i5-12500H/16G/512GB)
Asus Zenbook Pro 14 Duo OLED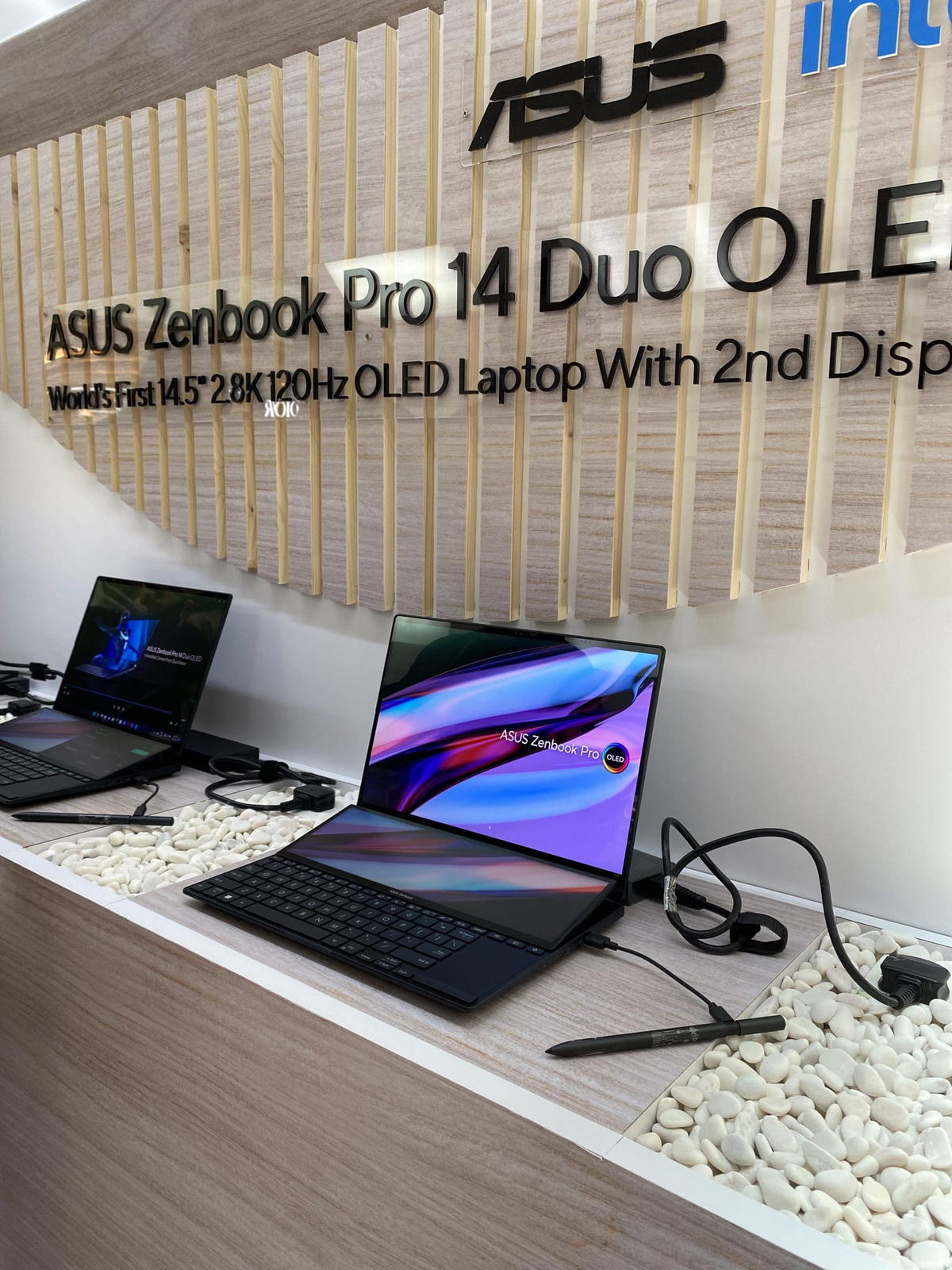 The Asus Zenbook Pro 14 Duo OLED is a dual-screen laptop that is the world's first 14.5" 2.8K (2880 x 1800) 120 Hz OLED touchscreen display and a secondary 12.7" screen at the back of the keyboard deck called ScreenPad Plus.
The new premium ASUS OLED display with a 120 Hz refresh rate and 0.2 ms pixel response time is incredibly smooth and clear, while the secondary ScreenPad display comes with an Active Aerodynamic System Ultra (AAS Ultra) hinge, which lifts it by 12° for a more comfortable experience compared to its predecessor, where it was only at 7°.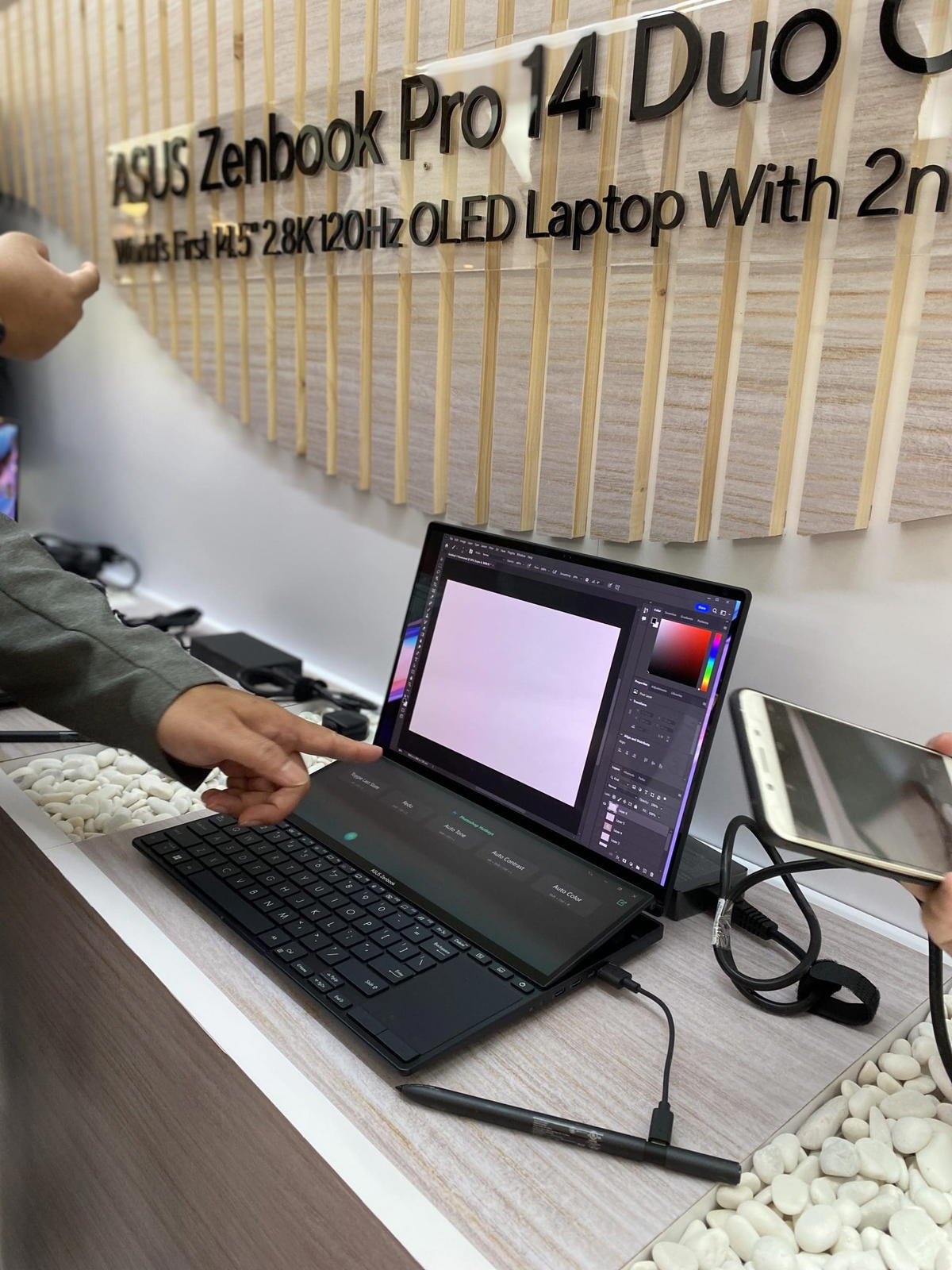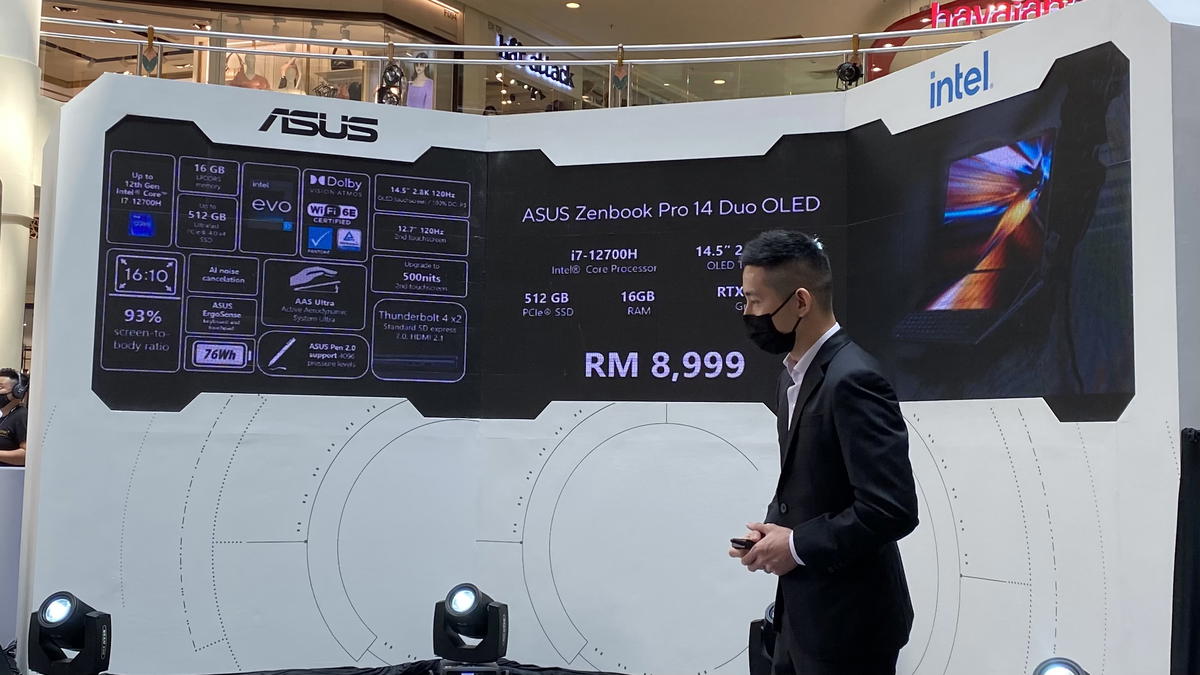 ASUS Zenbook Pro 14 Duo OLED pricing:
RM8,999
Zenbook Pro 16X OLED
Powered by the AAS Ultra mechanism, this 16-inch Zenbook Pro 16X OLED raises the rear of the keyboard by 14.5mm, tilting it by 7° when it is opened. This positions it at an angle perfect for typing and reduces wrist strain.
This elevated position also improves airflow by as much as 30%, thus protecting the laptop from overheating and ensures that the CPU is able to perform its best.
To support CPU-heavy tasks, the Zenbook Pro 16X OLED comes with the latest 12th Gen Intel Core i9-12900H processor and 14 cores for effortless multitasking and a Turbo Boost speed of up to 5.0 GHz.
The studio-grade GeForce RTX 3060 GPU fitted into the laptop also has advanced AI-augmented features and capabilities that will help users blitz through even the toughest visual tasks.
It is the ultimate choice for creators as its unrivalled performance will never let your creativity juice to stop flowing!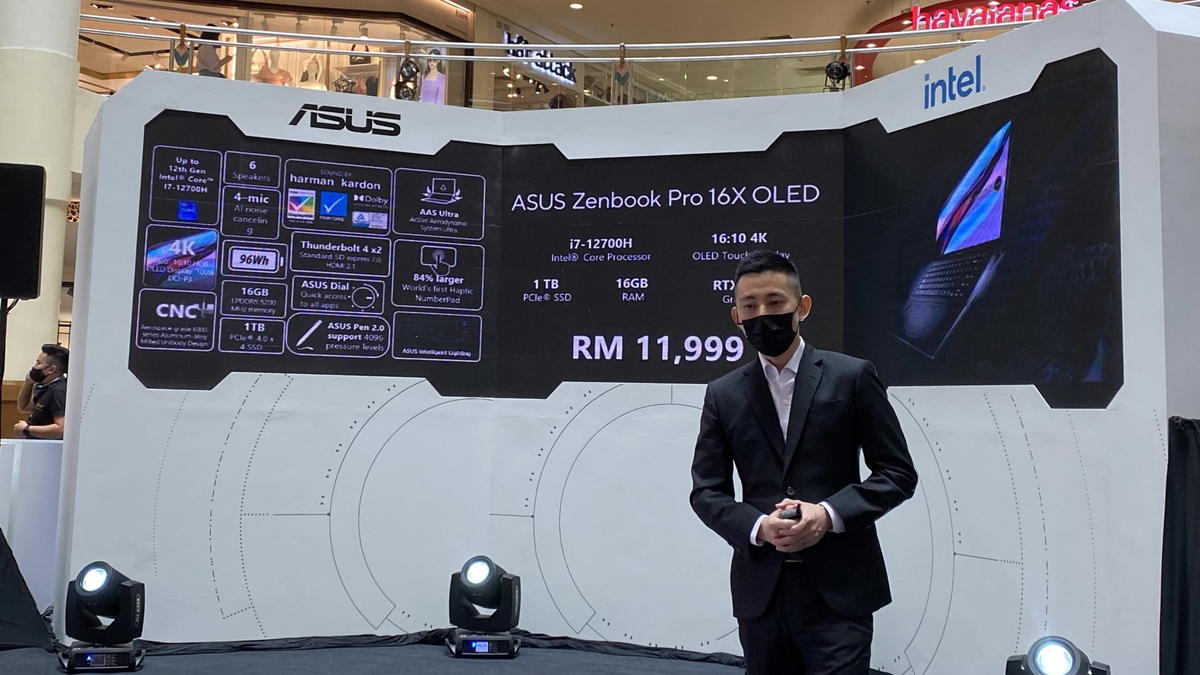 ASUS Zenbook Pro 16X OLED pricing:
RM11,999
For more information on the ZenBook OLED series, visit Asus Malaysia's official website at https://www.asus.com/my/.
Cover images by WeirdKaya
Editor: Sarah Yeoh