KUALA LUMPUR – Senior reporter and Astro Awani news anchor Hakim Rahman became the hero of Malaysians after a clip of him saying the unthinkable on live TV spread like wildfire on Twitter.
During a news section discussing the upcoming Johor state elections, Hakim was asked to give his opinions on the matter – a task which he fulfilled incredibly.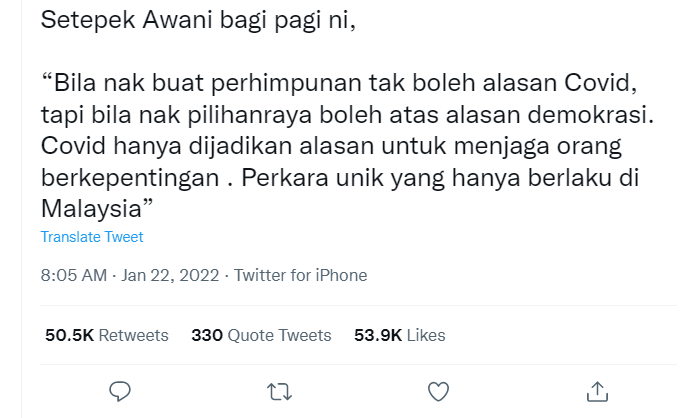 When [the people] want to hold an assembly, they are barred because of Covid. However, elections are allowed on the excuse of democracy. Covid is now being used as an excuse to protect the VIPs.
He even rounded up his remarks in a brilliant manner, where he sarcastically said that "this is a unique thing that happens only in Malaysia".
The clip has since garnered over 50k retweets, making Hakim an instant celebrity and causing him to gain many supporters, with one netizen writing, "Stan this man!"
On Saturday (Jan 22), the Sultan of Johor, Sultan Ibrahim Sultan Iskandar gave his consent to dissolve the state assembly, effectively paving the way for snap elections to take place within 60 days.
The date, however, has yet to be unveiled as the Election Commission (EC) is set to meet several parties on February 9 to discuss the details before preparing for the elections.
Cover image via Twitter and Twitter/ @AHakimRahman
Editor: Sarah Yeoh