As students, we are often faced with the daunting task of having to "sell" ourselves to prospective employers in order to net an internship opportunity with the company by drafting a well-crafted CV.
Unfortunately for this Business Administration (BA) graduate, she may have destroyed her sole chance of landing an internship due to her carelessness.
In a tweet posted by Aznam (@nikakmal100), he shared how the applicant had sent a formal request to join his company as an intern to his email address but forgot that she had included her boyfriend's forwarded message in it too. #ggwp
If this has gotten you fearing for her, wait till you read what was actually written in it: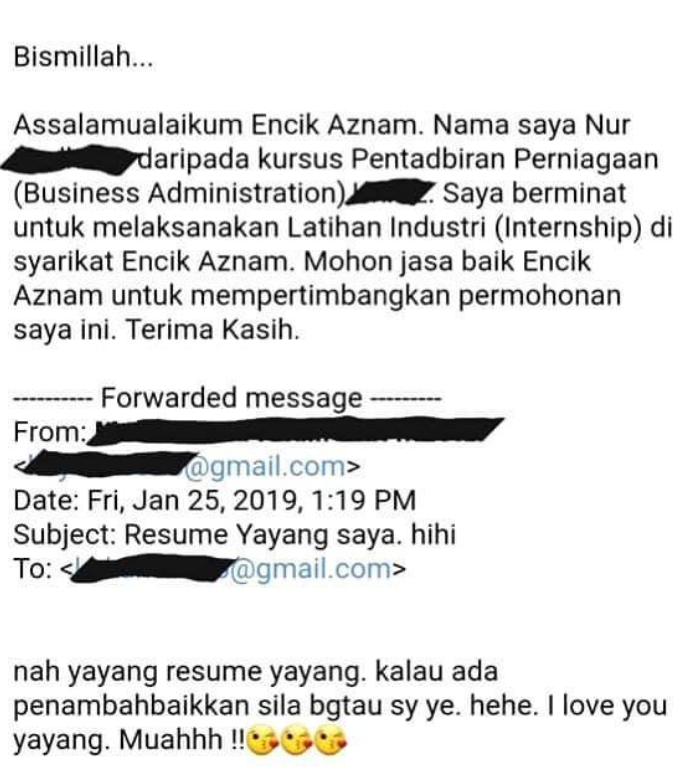 Sayang, here is your resume. Let me know if it needs further changes. I love you! Muahh!! 😘😘😘
While Aznam was amused by the honest mistake, he wrote that it was an example of shoddy work and advised others not to emulate this applicant as it would leave a bad impression on prospective employers.
Read the tweet here:
"Resume yayang saya"

🤣🤣🤣

Buat kerja tak clean, captured in 4k. Jangan amalkan. Impression tak bagus. pic.twitter.com/wtsaeHajTF

— Nik Akmal (@nikakmal00) February 22, 2022
Like that also can?
The tweet, which subsequently went viral, has garnered 10k retweets and 16k likes within one day alone along with numerous comments from netizens.
One netizen who worked in the Human Resources (HR) Department, shared how she deals with such applications submitted by candidates.
"As someone from the HR line of work, I have such received resumes/CVs via email before. If the candidate is good, I will call him/her for an interview. After the interview, I'll either draw a smiley face or constructive feedback as a point of reference for the candidate. It's normal for young kids like them."

Another wrote, "Aside from teaching students how to write official letters, teachers should start teaching them about the ethics and methods in sending official emails."

Aznam later posted another tweet, where he shared how a couple applied for a internship position at his company together through one single email.
We ended up only hiring the lady but not the man. He even called to ask why he was rejected. Moral of the story: these people need extra guidance.
Oh, tim aku pernah buat.

1 emel, 2 resume. Couple.
Mohon intern dengan kami.

Kami ambil yang cikpuan sahaja. Jejakanya kita reject😂. Dia call office tanya kenapa reject.

Cikpuan intern tu perform ya. Moral: Mereka perlu bimbingan extra. https://t.co/KdkO9c83tA

— Nik Akmal (@nikakmal00) February 22, 2022
What were some of the internship horror stories that you've heard or been through? Share with us in the comments!
READ ALSO: 'I send you my FYP, can?' Fresh grad's bizarre job application leaves heads shaking
---
---
Cover image via Kulture Media.