A video of former Prime Minister Najib Razak and his wife Rosmah Mansor visiting the Agong during Raya has recently sparked a sharp debate on Twitter.
What are we teaching our future generation. Sad day sad times for Malaysia. pic.twitter.com/zLxfvN1gs1

— Muhammad Rafique Rashid Ali (@MRafiqueRashid) May 5, 2022
In the video posted by Muhammad Rafique Rashid Ali, a private lawyer of ex-Prime Minister Dr. Mahathir, Najib is seen standing next to the Agong as Rosmah makes her entrance down a short flight of stairs while holding hands with the Permaisuri.
The four were also seen having a conversation with wide smiles on their faces at what seemed to be the Royal Palace.
They also took a picture together and even wore matching outfits just for the occasion.
Watch the video here:
'Sad times for Malaysia'
The clip deeply troubled Malaysians, who lamented over how the Agong could invite a convicted criminal into his premises.
One wrote that Malaysia was perhaps the only country that allows criminals to dine with royalty.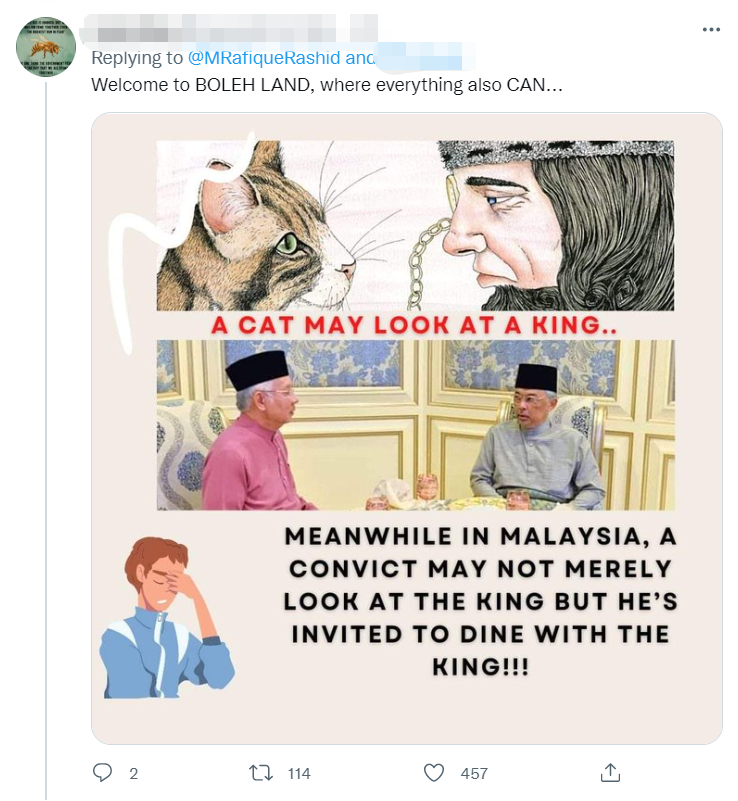 Another stated that despite Najib and Rosmah being stripped of their Datukship from the Negeri Sembilan royal institution for past misdeeds, the Agong doesn't seem too bothered by his checkered past.
One went as far to suggest that the Agong doesn't know to discern between a donor and a convict.

On the other hand, some felt that the visitation was harmless and blown out of proportion by certain parties.


Read also:
Cover image via Twitter.