A father from Petaling Jaya followed his daughter on her driving test day, cheering her on from a distance and capturing the moment on video.
The father's unique show of support, which included filming his daughter as she navigated city streets and country roads, quickly went viral.
Throughout the video, he can be heard encouraging her with comments like "Don't be afraid", "You can do it", and "Relax".
At one point in the video, the daughter's car is sandwiched between trucks at a traffic light.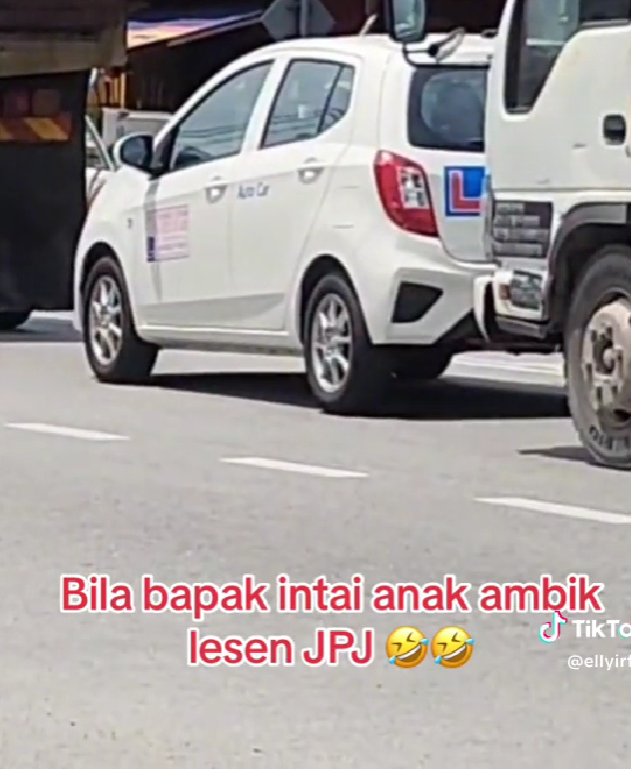 Referring to the trucks as 'elephants' and his daughter's car as a 'mouse', he reassured her by saying, "Don't be afraid, your father is right behind you."
He proudly explained in the video that his daughter had chosen the 'B' route for her test, which required her to drive through certain village sections and residential areas before turning back to the driving school.
As she drove by in her Axia car, he pointed her out with excitement, praising her with "Good job, you did it!"
The video was shared on TikTok by user Elly Irfan, who referred to the dad as a real-life version of the character from the local movie 'Papadom', a story of a father who is reluctant to part from his daughter out of concern for her well-being.
Netizens reacted warmly to the supportive father, sharing comments like, "Her dad is so adorable!", "I teared up when her dad was cheering for her", and "This kind of dad is the best."
Sharing their own experiences, one anonymous netizen said, "It reminds me of when I took my driving test. My dad followed me in his car because he was worried that I would be nervous and other vehicles might accidentally hit me."
Another chimed in, "When I was taking my driving test, my father was busy but he was also nervous for me, so he kept sending messages to check on me."
This loving father's quirky show of support, captured on video, truly touched hearts and brought back fond memories for many netizens.
---
---