Towing services are essential for drivers who have experienced car trouble or accidents while on the road.
However, not all towing services are created equal, and unfortunately, some drivers have had bad experiences with these services.
In Malaysia, drivers have reported negative experiences with towing services, including issues with customer service, vehicle damage, and high fees.
These are their stories.
1. 'They stole her TnG card'
"It happened about three years ago when my aunt was on her way to work from Sentul to Bangi. She was stopped at a red light when a motorcycle suddenly hit the rear of her car, damaging the bonnet and backlights. A tow truck was right behind her and its operators quickly approached her to offer assistance."
"Despite my aunt had already called her service agent for help, the tow truck operators insisted on helping her. They even got into her car and took her car key, claiming they were going to move the car to a safer location."
In the chaos of the moment, my aunt did not suspect anything was amiss and allowed them to take her key. To her surprise, they also stole her TnG card when they were in the car."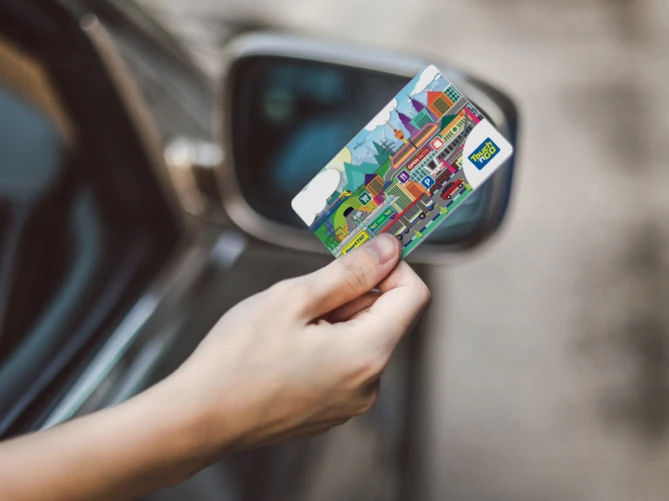 "Thankfully, my aunt's service agent arrived just in time to prevent further wrongdoing. The tow truck operators quickly handed over the key to the service agent and made a hasty retreat."
"After the incident, my aunt reported the theft to the police and her TnG card was eventually cancelled, but the damage had already been done."
"This experience left my aunt feeling shaken and vulnerable. She had trusted the tow car occupants to help her in her time of need, but instead, they had taken advantage of her situation to commit theft."
2. Oil spill on the road
"As I was driving to Genting Highlands, I had a frightening accident. I lost control of my car and crashed into the roadside barrier. What was particularly strange about the incident was that a tow truck driver appeared almost immediately after the accident, as if they had been waiting for me to crash."
"After the accident, I became increasingly suspicious about the situation. The accident occurred while I was driving uphill, and it seemed unlikely that my car would spin out of control in that situation. I began to suspect that the accident may have been caused by irresponsible individuals looking to profit from these kinds of situations."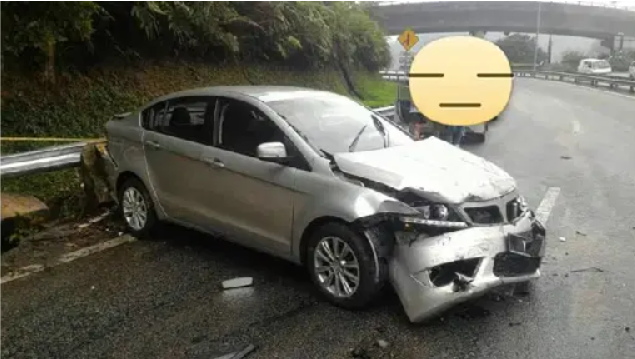 "Fortunately, I didn't sustain any major injuries in the accident, but my car was badly damaged from hitting the roadside barrier. The experience left me feeling shaken and vulnerable, especially since I couldn't be certain whether the tow truck driver was involved in the accident or not."
3. Overly helpful
"Let me tell you about my recent experience with a tow truck company. After being involved in a road accident, my car was pushed to the side of the road and we called a tow truck dispatch company through our insurance company."
"The representative on the phone suggested a parts shop as a destination despite our objections and we had to call back and speak to another representative to arrange for the car to be towed to a proper mechanic in the morning."
"We provided the cross streets of our location and the destination address of the car, but when the tow truck driver arrived, there was some confusion about the location. The driver parked at a location which wasn't where we were and it took some time to sort out the confusion. Once we were finally hooked up and safely towed to the proper location, we thought the worst was behind us."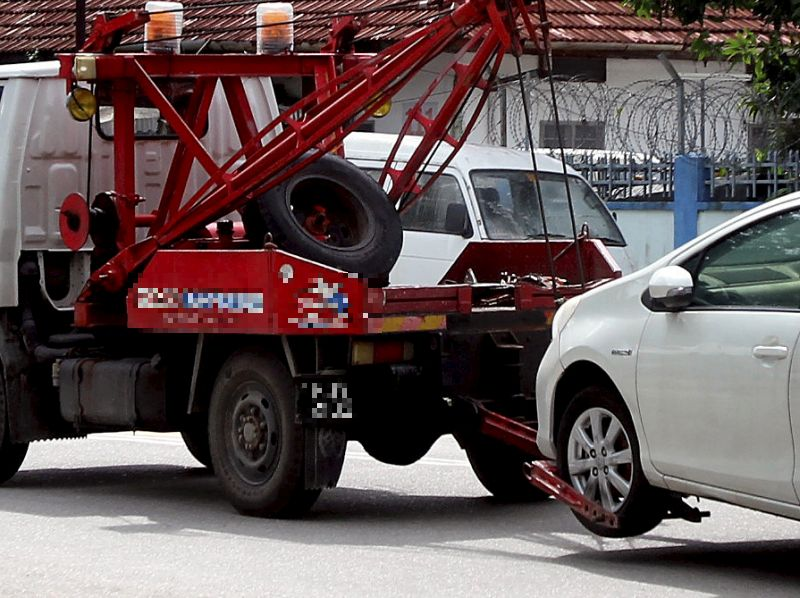 "However, the next morning, we encountered another set of problems with the tow truck company. We had arranged for the car to be taken to a specific mechanic, but the tow truck driver who arrived tied the car incorrectly and drove too fast down the road, causing the car to slide on its back."
"When we arrived at the supposed destination, it turned out to be the wrong mechanic. After some arguing, the driver eventually took us to the correct location, but not before backing the car into a tree in a planter and then rushing off without checking for any damages."
"The entire experience was frustrating and disappointing, and we will definitely not be using this tow truck company again in the future. The lack of communication and care from the company caused us undue stress and put our car at risk of further damage."
4. More damage than help
"I once had the misfortune of breaking my company car, a junky Proton Wira with over 200,000 km on it and had several existing issues, including an oil leak and bad suspension. As the new guy at the agency, I was assigned the worst tasks, including driving 4 hours to a rural, forested location, followed by a staff meeting the next day."
"As expected, the car did not fare well on the rural road and ended up with a cracked transaxle case."
"My agency called a tow truck for me, but the tow truck driver, who also owned the small tow agency, got stuck while trying to reach me. He called for his 4×4 tow truck to come pull him out first before attempting to rescue my car."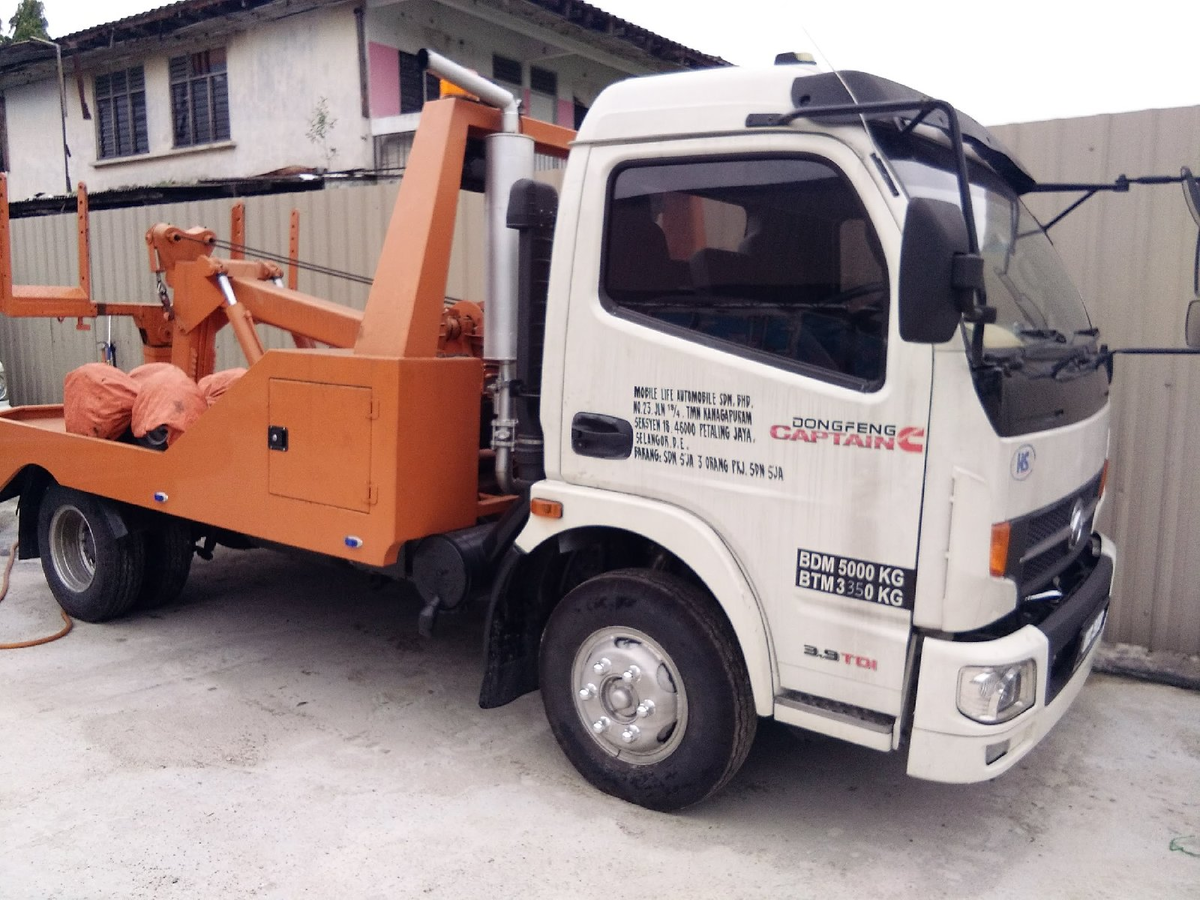 "The winch line broke after only 40 feet, so they resorted to using the wheel lift to drag the car the rest of the way. Along the way, the car suffered additional damage, including a bent rim, torn rear bumper cover, and lost side mirror."
"As we made our way back to town, one of the hold-down chains came loose, causing the car to nearly fall off the side of the flatbed. The tow truck driver had to lift the bed, slide the car back down, and use another truck to swing it around before winching it back up."
"We finally made it to the tow truck yard, where I agreed to return in a few days to strip the car of any loose items before it was sent to the junkyard."
"The whole experience was frustrating and exhausting, and the tow truck driver was understandably angry at the end of it. While I was relieved that the agency would be picking up the bill for the damages, I couldn't help but feel that the situation could have been avoided if the agency had provided me with a more reliable vehicle for the task."
"In the end, I learned the importance of being prepared for the unexpected and the value of choosing a reliable towing service."
5. Hidden agendas
"I had a scary experience when my family's car was hit in Kelana Jaya. Luckily, a tow truck service stopped to offer us assistance and even sent my parents and I to our original destination, my grandmother's house. They were very friendly and helpful, even advising us to call them if we ever needed help again."
"Unfortunately, things took a turn for the worse when my dad returned to collect his car a few days later. It turned out that the towing service had switched out some spare parts on the car without my dad's knowledge or consent. They claimed the parts were severely damaged and needed to be changed, but they charged my dad the full price for them without informing him first."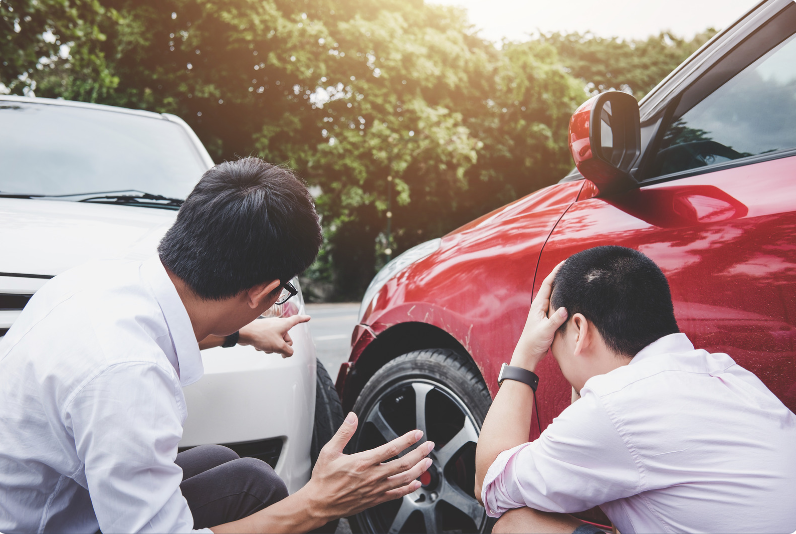 "My dad was not happy with what had been done, but he still had to pay the cost of the parts and the mechanics' fee, even though he had not asked for the service in the first place."
"At first, everything seemed fine and the car was running smoothly. However, when my dad went for a car repair some time later, he received some shocking news. The mechanics informed him that the spare parts previously changed by the towing service were old and faulty."
"In other words, my dad had been scammed into paying for subpar and unnecessary parts."
"This whole experience left my family feeling frustrated and disappointed. We had thought we were being helped by a kind and trustworthy towing service, only to find out later that they had taken advantage of us."
"It's important for drivers to be cautious when dealing with unfamiliar towing services, and to always ask questions and confirm any changes or charges before agreeing to anything. We learned the hard way that not all towing services can be trusted, and it's always better to be safe than sorry."
6. Wait until the cows come home
"I was on a solo road trip around West Malaysia as a well-deserved holiday from work a few years ago. One day as I was driving along a deserted highway, my car's engine suddenly sputtered and died on me."
"I did not panic as I have been in the same situation before. Instead, I immediately searched local tow car services and called the most highly-rated one. After informing them of my situation and location, the phone operator assured me that a tow car would arrive to assist me in about half an hour."
"However, there was no sign of the tow car even after two whole hours. To make matters even worse, my phone battery was steadily draining, which started to worry me as I was miles away from civilization."
"As I stood by the side of the road, my car broken down and my phone battery dying, I couldn't help but feel a sense of frustration and disappointment. I had called for a tow truck over three hours ago at this point, but it still hadn't arrived."

"I paced back and forth, anxiously looking down the road for any sign of the tow truck. But as the minutes ticked by, I began to lose hope. Maybe the driver had gotten lost and given up, or maybe they had simply forgotten about me."
"I tried calling the towing company again, but all I got was an automated message telling me to hold. After several minutes on hold, I finally gave up and hung up the phone. To add insult to injury, it started to rain."
"As the sun began to set and the rain grew heavier, I started to feel more and more alone and vulnerable. I was stranded in the middle of nowhere with no one to turn to. I wondered how long I could last out here before I was caught in a flood or something worse happened."
"Finally, after what felt like an eternity, a tow truck appeared in the distance. I breathed a sigh of relief and waved my arms, trying to catch the driver's attention. As the truck pulled up beside me, I couldn't help but feel a mixture of gratitude and frustration. I was glad to finally be rescued, but angry that it had taken so long."
"As the driver loaded up my car and we headed back to civilization, I couldn't help but think about how things might have turned out differently if the tow truck had never shown up. But for now, I was just glad to be on my way home."
Know who to trust!
Overall, bad experiences with towing services in Malaysia can be a major inconvenience and can add additional stress to an already difficult situation. To avoid these negative experiences, it's important for drivers to research towing companies in advance and choose a reputable and reliable service. By doing so, drivers can ensure that they receive the help they need without any additional hassle or frustration.
That's why the MySOMPO app is always your best choice!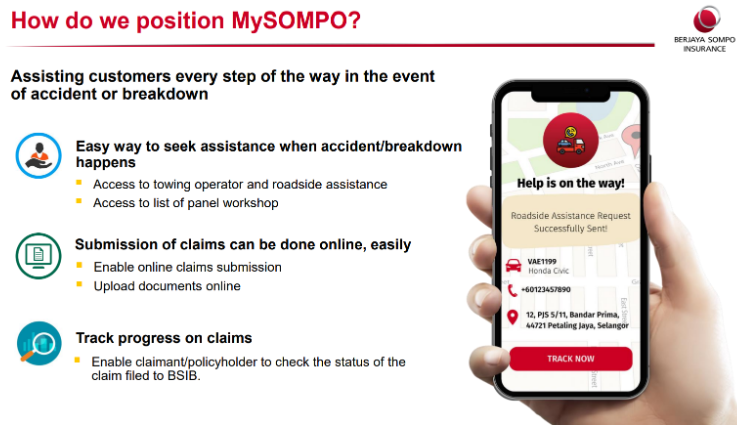 MySOMPO App
What is MySOMPO?
MySOMPO is a mobile application app that provides 24-hour emergency roadside assistance or towing services in the event of an accident or breakdown.
On top of that, the MySOMPO app also allows claims to be submitted online, where users can check the status online and search for approved panel workshops.
Furthermore, there are also exclusive news updates and promotions which are conveniently available on the app.

If you're wondering whether a non-Berjaya Sompo Insurance Policyholder can use MySOMPO, do take note that it's applicable only to existing Berjaya Sompo Insurance customers.
The MySOMPO app is currently available for download from Google Play and Apple App Store. Don't wait until it is too late, download the MySOMPO app today!
Feel free to visit their website at www.berjayasompo.com.my/ if you wish to know more about Berjaya Sompo's Insurance and MySOMPO.