Graduating from high school ain't fun for a majority of students, especially those introverted in nature and find it a struggle to step out of their comfort zone.
With school back in motion and Form 5 students prepping for SPM, let's take a look at the common problems faced by Malaysian students during their last year at high school.
1. What should I do next?
If you think that finishing high school marked the end of life's challenges, we hate to break it to you but it's just the beginning. *jeng jeng jeng*
"What's next?" This is probably the question you have upon stepping out of the four walls and into the big, wide world where you realise that there's still a long road full of questions and uncertainty ahead.
2. Where should I go?
It's common knowledge that before you achieve a goal, you must first map out a plan that leads you to your final destination (nope, we're not referring to the R-rated horror series).
Leaving behind a comfortable life filled with stability and caring friends and teachers to embark on an adulting journey is a stressful experience for many, and it's compounded even further when you're pulling your hair out over where to further your studies.
"Local or overseas? Public university or private university? Help meeeeeeeeeeee~"
3. Am I qualified for what I want to study?
Just when you (thought) you had finally figured out what to do next and have a clear direction of your career path, your insecurities suddenly creep onto you and whisper, "Are you sure you're made for this?"
To know whether your capabilities are in line with the desired course, you need to refer to your grades as opting for a course or university you aren't qualified for is a waste of time and resources.
Remember: There's no such thing as too much research!
4. Me no money leh :'(
They say 'Love makes the world go round', but let's be honest, without money, there's so little you can achieve including fulfilling your academic dreams. #sadge
With that being said, it's important to properly plan and manage your finances in order to make your journey into your dream university smoother. If needed, you will also need to apply for scholarships or humbly request Mummy and Daddy dearest's help.
5. Who should I consult?
Attending multiple education fairs during our final year of high school was, without a doubt, memorable activity for many of us.
But, more often than not, we find ourselves wandering in awkward silence as we're too shy to approach the advisors or are at a loss over what questions to ask.
Fret not! You can now have another opportunity this December!
Go! Further Studies Education Fair can be of massive help and has loads of information that can help you achieve your next milestone in life.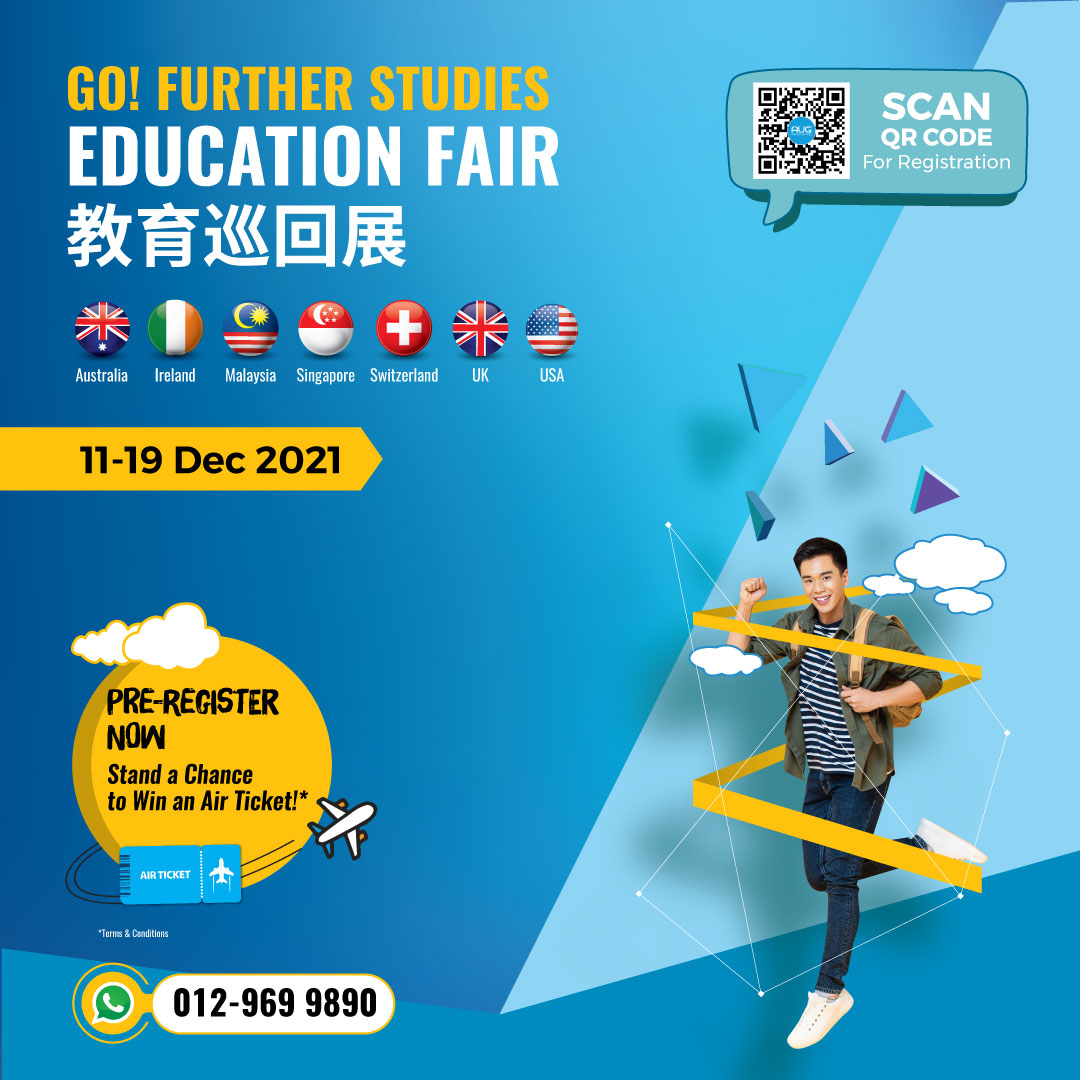 Here are the dates for the education fair:
11 Dec (Sat) | Virtual Education Fair (Zoom) | 12pm-6pm
19 Dec (Sun)| One World Hotel, Petaling Jaya | 12pm-6pm
What to expect from the Go! Further Studies Education Fair
Over 50 institutions from Australia, Ireland, Malaysia, Singapore, UK & USA to enquire and apply!

Face-to-face consultation with representatives of some of the world's top-ranked universities

A sample of the World's Top 100 universities in attendance: (according to the QS World Ranking 2022)
National University Singapore # 11 – Virtual
University of Edinburgh #16 – Virtual
Kings College London #35
University of Melbourne # 37
University of Sydney #38
University of New South Wales #43
University of Queensland #47 – Virtual
Monash University #58
University of Southampton #77
University of Leeds #92
University of Western Australia #93

Explore credit transfer, twinning programs, and transnational programs from Malaysia to Australia, UK, USA, and Singapore.
Attractive scholarships for universities both overseas and in Malaysia. You can refer to this Scholarship library for more info: https://augstudy.com/scholarships/malaysia/
Certified MBTI Career advisors to walk through with you in discovering your personality traits and match you to suitable career choices
Direct application based upon your forecast/official results
Who says good things in life aren't free? Admission is free for all so pre-register NOW to stand a chance to win an air ticket to your study destination!
Link to register: https://fsedec21.eventbrite.com.au/?aff=weirdkaya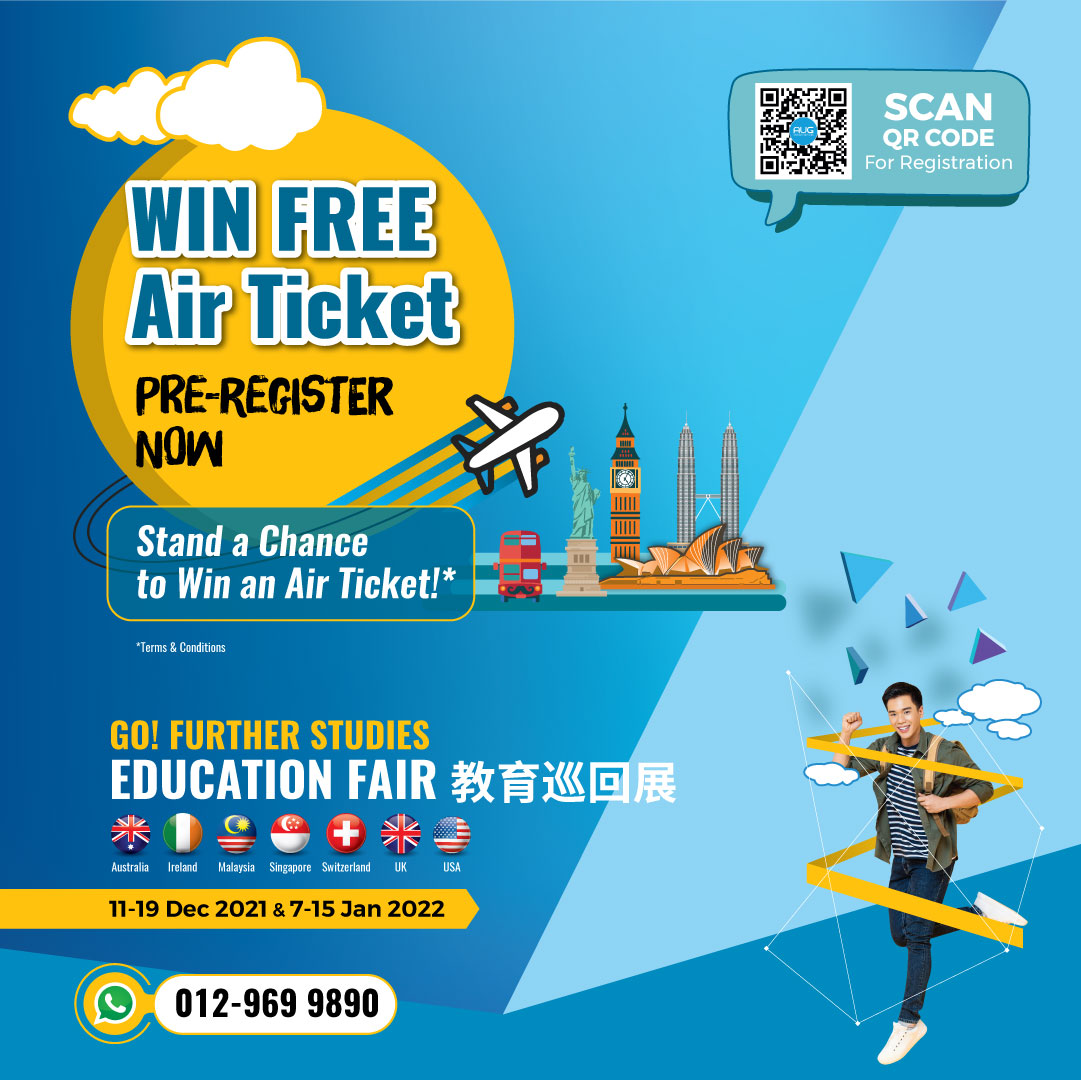 Cover images via JUICE and FreeMalaysiaToday
Editor: Sarah Yeoh