We're sure that you have come across a blood donation drive at least once in your lifetime. If you haven't, congratulations on being a top-tier hermit. Jkjk.
While some of you are aware of the numerous benefits that blood donations give and have become regular donors, there's still a handful of Malaysians who are hesitant to do the same due to their fear of needles or belief in certain myths.
We're now going to introduce 5 interesting facts about blood donations that will (hopefully) encourage you to go out and donate to someone in need!
1. Where does the donated blood go to?
This may surprise you but most of the donated blood is actually given to cancer patients!
The reason for this is because cancer patients need to undergo blood transfusions to make up for the lack of platelet production by the bone marrow to replace those destroyed by chemotherapy.
As for victims of serious accidents, only 2% of all blood donations is given to them.
2. 'Golden blood' does exist!
A woman from Terengganu made history when it was discovered that she had the rarest blood type in the world – the Rhnull blood type, also known as "golden blood".
To top it off, she's one of the 43 individuals worldwide to have this blood type!
3. Blood donation is good for the donor
Not only does blood donation improves the life of the recipient, it also offers several health benefits for the donors themselves.
Donating blood regularly has been associated with a lower risk for high blood pressure and heart attacks. It also improves liver health, blood activation, and cell production too!
4. Not all can donate blood
Before you sign up the form to donate your blood, there are certain conditions that may prevent you from donating temporarily or permanently.
Temporary conditions include pregnancy, acute fever, recent alcohol intake and all forms of body piercing. If you suffer from cancer, cardiac diseases, severe lung diseases, Hepatitis B and C, or AIDS, sadly you won't be able to donate at all in order to avoid cross-contamination.
5. One man saved 2 million babies with his blood alone
James Harrison, an Australian blood donor, who has been donating blood for 60 years, is recognised as the most impressive and respected donors in the world.
While it's estimated that the average donor can save about 1,000 lives in his/her lifetime, Harrison was able to save around 2 million lives due to his rare blood type.
It all began when it was discovered that Harrison's blood contained high levels of an antibody known as anti-D immunoglobulin, which was specifically used to help babies suffering from a condition known as Rhesus disease, where their mothers' immune system would unintentionally attack the fetus.
Time to join a national blood donation!
If you've thought of making a difference or hope to do leave a positive impact on a person's life, now it's the time for you to do so!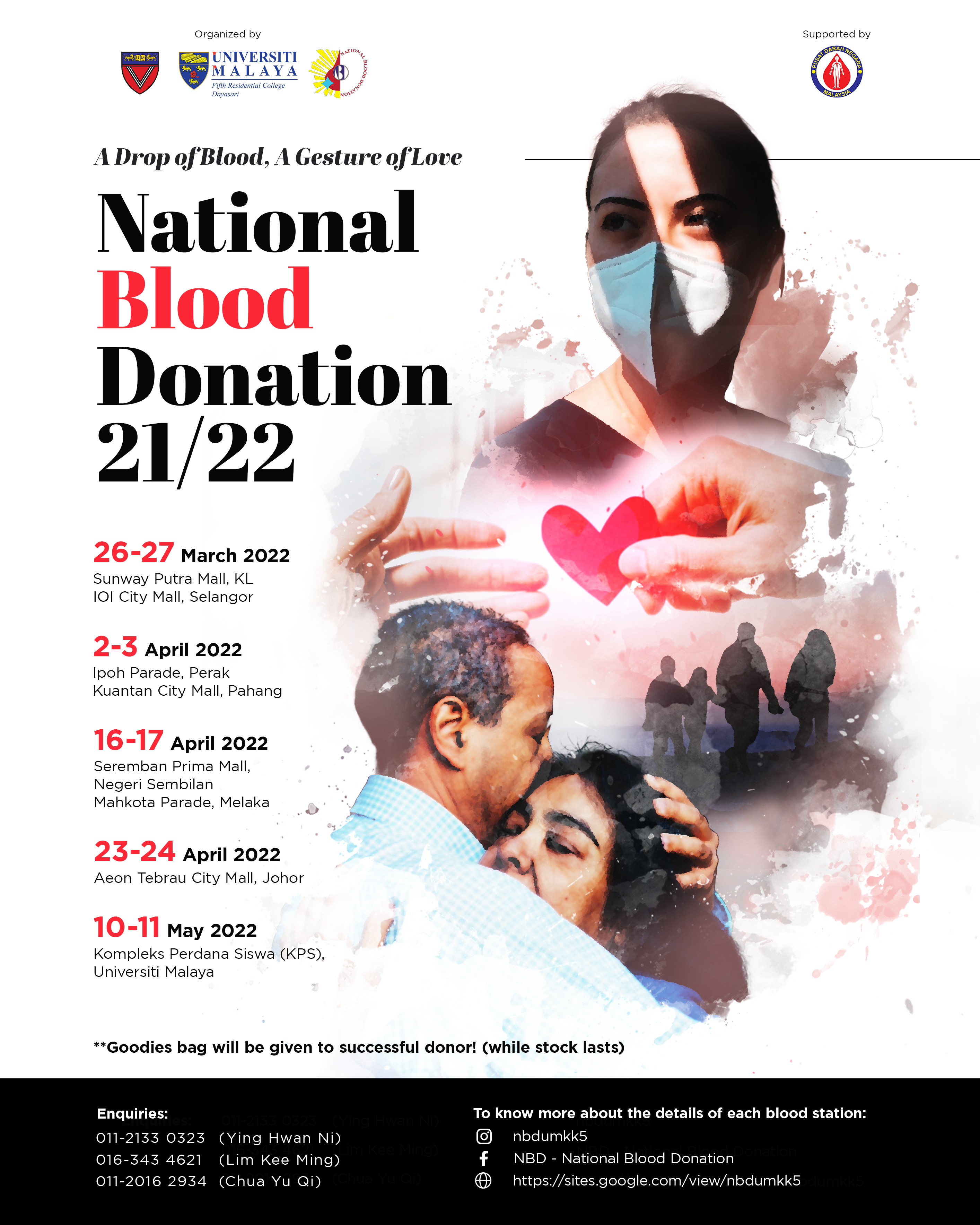 This year, the National Blood Donation (NBD) is back with their annual blood drive that will be held in various locations across 7 states. Do take this opportunity to kickstart your blood donation journey as there are many attractive goodie bags up for grabs when you donate at their stations! 🔥🔥
What are you waiting for? Hurry up and visit the nearest station! 🚗🚗 For more information, follow @nbdumkk5 or click on: https://linktr.ee/nbdumkk5