If you've ever played multiplayer online battle arena (MOBA) games such as League of Legends or DOTA 2, chances are you've met a teammate who acts rather strangely at least once.
This time round, instead of being hurled with the typical swear words you'd hear one screaming at Internet cafes, local streamer Hailey哈雷z found her Malaysian identity being questioned by an overly patriotic Chinese teammate.
Surprised by her ability to speak Mandarin
In one of her livestream videos, Hailey哈雷z's teammate was surprised at her ability to speak Mandarin and asked how was it possible.
I'm a Malaysian. In Malaysia, there are Malays, Chinese, and Indians. I'm a Malaysian Chinese and my ancestors migrated from China," she replied.
However, her answer didn't sit quite well with her teammate, who told her that she shouldn't change her nationality, leaving Hailey哈雷z visibly confused.
He then went on to ask Hailey哈雷z whether she spoke English or Malay, to which she replied by saying that Malaysians are able to speak many languages and dialects including Hokkien and Cantonese.
'Malaysia's industry is like rubbish!'
Hailey哈雷z's teammate then went on to ask what kind of country Malaysia was, where she answered by saying that it was a multiracial country.
To her shock, he then replies: "My first impression of Malaysia is that its industry is like rubbish." Say what?
In an attempt to clear Malaysia's good name, Hailey哈雷z quickly brushes off her teammate's comments and told him that Malaysia is very much like Singapore.
Unfortunately, things didn't quite work out the way she wanted as her teammate went on to describe Malaysia as "an offshoot of Myanmar and Laos" and labelled the two countries as "rubbish".
Despite Hailey哈雷z's best efforts to convince her teammate not to believe everything he reads on the Internet and to be more open-minded, things were just about to get even weirder.
'You don't love China!'
As things began to get a little awkward, Hailey哈雷z's teammates posed her this question: "Do you love China, bro?"
In what seemed to be a veiled swipe against his negative comments about Malaysia, Hailey哈雷z replies:
I've never been to China. I've only been to Taiwan and Hong Kong.
This proved to be the straw that broke her teammate's back as he let loose an angry anti-US and anti-Taiwan rant and even threatened lose the game on purpose.
After the rant, Hailey哈雷z's teammate threw her a rather rhetorical question: "Does your place have Covid-19?", which Hailey哈雷z with a "Yes. It's all over the world too."
His advice?
Come back to China as soon as possible! China is very safe!
While Hailey哈雷z's merely mumbles a "Mhm" in response, it's safe to say that she won't be heading over to China judging from her facial expression.
Watch the video here:
Praised for keeping cool
Hailey哈雷z's response has since earned the praise of netizens, who lauded her for staying calm and answering in a witty manner throughout the tense exchange.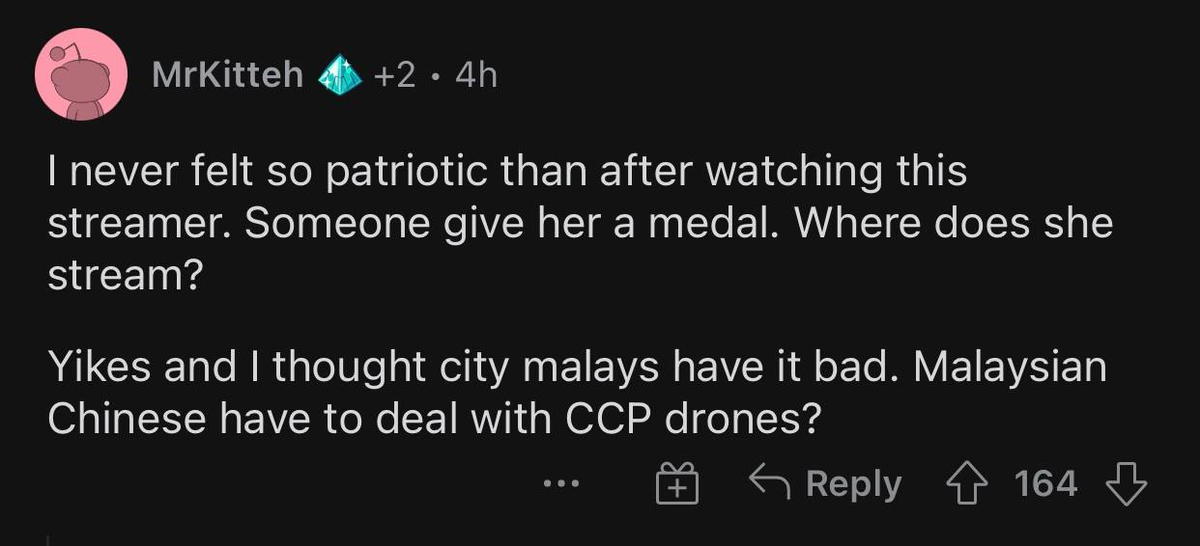 Have you encountered such teammates before? Share with us in the comments!
---

---
Read also:
Cover image: Hailey哈雷z (Facebook & Youtube)